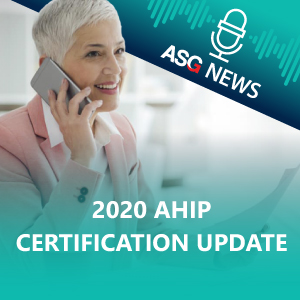 Update: 2020 AHIP certification is LIVE! Need to know where to find carrier-specific Medicare Advantage and prescription drug plan certification requirements? We cover everything you need to know about AHIP!
Register with Ritter > - https://bit.ly/2Q6IwSq
Mentioned in this episode:
What is AHIP and Why Do You Need It?
More episodes you'll like:
2020 Medicare Advantage & Part D Certification Info
Looking for 2020 Medicare agent certification and product training details? Learn how you can find carrier AHIP, Medicare Advantage certification, Part D certification, and product training details in one convenient place!
2020 Medicare Part A & B Premiums & Deductibles
CMS just announced the 2020 Medicare Part A and B premiums and deductibles. Find out what the cost of Medicare will be for your clients in the coming year.
What's New in the 2020 Medicare Communications and Marketing Guidelines?
Make sure you're compliant with the latest CMS Medicare Communications and Marketing Guidelines. We've got news on the 2020 MCMG that you won't want to miss.
The latest from Agent Survival Guide:
4 Perks of Partnering with an FMO
As an insurance agent, do you ever feel like you need some help? This industry has many moving parts and it can be difficult to keep track of everything yourself. Luckily, there...(read more)
Do's and Don'ts of Medicare Compliance
Life as an agent before Medicare's Annual Enrollment Period is a flurry of contracting and certifying. But there's another C that's even more important: Compliance. It's not just something to consider during...(read more)
How to Follow Up with Medicare Clients Compliantly
After closing a sale, you might think your job is done but not yet! Following up with clients is a critical part of being a successful Medicare sales agent. If you're not...(read more)
Subscribe & Follow:
Connect on Social: