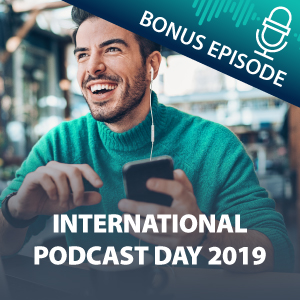 It's International Podcast Day and we're celebrating! This special episode has updates on our favorite podcasts, MORE podcast recommendations, and Sarah talks about how she got into podcasts. You don't want to miss it! 🎙🎧🤓 
Mentioned in this episode:
Behind the Scenes of the ASG Podcast | ASG100
Celebrate 100 episodes of the Agent Survival Guide Podcast! In this special episode, we talk about how Agent Survival Guide and the ASG Podcast started, what we've got planned for 2019, podcast recommendations from our team, and more! 💯🎉
Podcast Recommendations:
99% Invisible By Roman Mars
[13:38.428] …takes a look at the origin story of elements of design and architecture that we interact with every day. We kind of take it for granted and don't always know or appreciate why things are the way they are.
Blackout By Endeavor Audio | QCode
[21:13.228] …the all too real story of what could happen when power grids across the nation go down simultaneously. It's set in a small town in New Hampshire, and we quickly see how that small town tries to adapt to being thrown into this new world of no electricity, no cell phones, no internet.
Blackwood By Skylark | Wondery
[10:16.247] …think Blair Witch Project but better, and with audio instead of video. Found recordings documenting the Blackwood Bugman.
Carrier By QCode
[19:59.929] …the story of a woman who takes over driving her father's big rig. She agrees to haul a trailer that's completely sealed and we join her on that suspenseful journey.
Deadly Manners By The Paragon Collective
[6:16.487] Mystery Dinner-style whodunnit podcast featuring Kristen Bell.
Girl in Space By Sarah Rhea Werner
[18:19.343] …she's lived on a ship in outerspace her whole life. She documents her day-to-day in an audio journal. Her existence is possibly threatened by a fleet of ships, the first contact she's had with other people in a while. Think action, adventure, mutiny, and space cheese!
King Falls AM By King Falls AM
[10:00.779] Simulated AM talk show that covers a small town where strange events happen to its even stranger residents. Or is it the other way around?
Limetown By Two-Up
[9:14.089] Lia Haddock researches Limetown, a town in Tennessee that makes headlines when its 300 residents vanish.
Nice Try! By Curbed
[15:00.477] Avery Trufleman focuses on the people and groups behind the design and the theories they believe in. Each episode of Season 1 follows a distinct failed attempt at designing a utopian society.
Rabbits By Terry Miles
[11:42.784] A docudrama about a fictional mysterious game that references video games and pop culture Da Vinci Code style, in audio form.  
Sandra By Gimlet
[11:05.284] …the podcast about the AI that's actually run by real people on the other end.
The Bridge By The Bridge Podcast
[22:08.283] …the story takes place in 2016, but it's not our 2016. There's something called a trans-continental bridge, which spans over the Atlantic ocean. There are towers close to the bridge that are similar to lighthouses, just for cars rather than ships, and the story follows the inhabitants of Watchtower 10. We learn very quickly that all is not well on the Bridge or in Watchtower 10, several mysterious things have happened and these snippets are relayed through a girl named Etta who uses her traffic reports to tell the folklore of the bridge, stories of the strange events that have happened over the years.
The Hottest Take By Spotify Studios
[12:06.643] … a new daily sports podcast from Bill Simmons and company.
The Six Disappearances of Ella McCray By Zoom Doom Stories
[17:16.657] …fictional eyewitness accounts of six people who witnessed the disappearance of Ella McCray.
Welcome to Tinsel Town By Triangle Content
[15:59.689] …kid-friendly podcast that tells the story of a little girl who makes a wish on a star at Christmas, and the magical adventures that follow as she is transported to Tinsel Town, where it is Christmas Day every day.
Subscribe & Follow:
Connect on social: