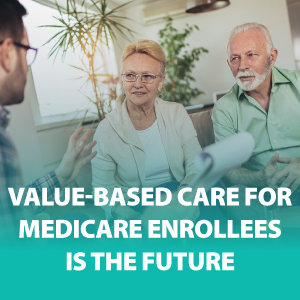 What is Medicare's Value-Based Care Model? Our team takes a deep dive into this topic, defining the care model that CMS adopted in 2011. Learn the types of value-based care programs CMS offers, how they can help you sell insurance plans, what this kind of care looks like for your clients, and carriers' value-based care initiatives. We even talk about what your clients can expect in the future!
CMS Value-Based Care Programs:
End-Stage Renal Disease Quality Incentive Program (ESRD QIP)
Hospital Value-Based Purchasing (VBP) Program
Hospital Readmission Reduction Program (HRRP)
Hospital Acquired Conditions (HAC) Reduction Program
Skilled Nursing Facility Value-Based Program (SNFVBP)
Home Health Value Based Program (HHVBP)
Mentioned in this episode:
Americans 'fed up' with high healthcare costs, surprise billing, Verma says
Be Prepared to Discuss Medicare Telehealth Coverage This AEP
CMS Unveils New Value-Based Care Models for Primary Care Providers
Diabetes Self-Management Education and Support (DSMES)
Medicare Advantage And The Future Of Value-Based Care
Medicare Advantage Costs Drop, Benefits Grow for 2019
Payers, Providers Create New Medicare Advantage Partnerships
The Advent of Retail Healthcare & What It Means for Medicare Beneficiaries
The Future of Value-Based Care: 2019 Survey Results
Top Insurers Move to Bring PBM Partners In-House
Carrier Value-Based Care Initiatives:
More episodes you'll like:
5 Major Things to Expect in the Medicare Advantage Market for 2020
What's new in the Medicare Advantage market for 2020? The ASG Podcast has the scoop on what you can expect in the coming year, including new MA carriers!
December 13, 2019 | The Friday Five
Some schools legally able to bill Medicaid for health care services - Medicare Plan Finder glitches - the Supreme Court hears arguments on ACA risk corridors repayments - Congress, the LHCC Act, and an end to surprise medical bills - Next-level, wearable health care tech and other cool stuff from Pediatrics 2040
Stay Busy Outside of AEP with Special Enrollment Periods
Drive insurance sales year-round with Special Enrollment Periods. Learn how to find clients and what special kinds of plans should be in your portfolio. 
Top 5 Photo Editing Apps | Agent Apps
Not sure which photo editing app is right for you, or your insurance business? In this episode, we've got our top five photo editing apps, plus five simple tips to taking better photos.
The latest from Agent Survival Guide:
7 Strategies to Prevent Rapid Disenrollments from Medicare Plans
No Medicare agent wants to hear they've had a rapid disenrollment. Not only can these feel like a slap in the face after all the hard work you put in, but they... (read more)
Do you have clients looking for guarantees in long-term care insurance (LTCi)? If so, for many agents, the "knee-jerk" reaction is often to go straight to a hybrid or linked-benefit solution. If... (read more)
Should You Hire an Assistant for Your Insurance Business?
To say that the Annual Enrollment Period is an extremely busy time of year for insurance agents is a massive understatement. At Ritter Insurance Marketing, we know just how hectic AEP can... (read more)
What Agents Forget to Do When Preparing for Appointments
When you're thinking of everything you need to do to prepare for appointments this Annual Enrollment Period, be sure to think of things outside your memorized to-do list. Pens? Check. Scopes of... (read more)
Subscribe & Follow:
Connect on social: