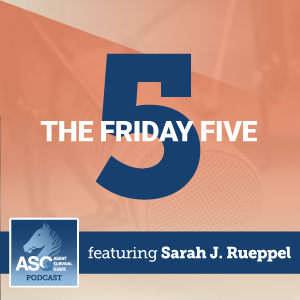 The Friday Five for January 31, 2020:
Smart Bandages
2020 Health Care Policy Definitions
What Do Americans Prefer: Student Loan Forgiveness or Free Health Care?
Coronavirus Update
The Agent Survival Guide Has a New Home & Updated Look!
Mentioned in this episode:
Color-changing bandages detect and treat drug-resistant infections
Nearly Half of Americans Would Take Student Loan Forgiveness Over Free Health Care
Coronavirus: Scientists race to develop a vaccine
Novel Coronavirus: World Health Organization
U.S. Elections 2020: Understanding What's At Stake For Health Care
The Most-Googled Super Bowl Snack in Every State
Skinny Fire Wings: Healthy Hacks for Your Favorite Snacks: Healthy Hot Wings
Spinach & Artichoke Dip: Spinach and Artichoke Dip*
*Sarah's Recommended Modifications: Add two cloves of garlic, substitute olive oil for butter, substitute milk for heavy cream, use two teaspoons sriracha rather than hot sauce, substitute Monterey Jack or Colby Jack for white cheddar cheese
More episodes you'll like:
The Agent Survival Guide Has a New Home
We've got some exciting news! Ritter's Agent Survival Guide content has a new home on RitterIM.com. Listen to find out all the details you need to know. 
 
FMO vs. IMO vs. NMO vs. MGA vs. GA: What's the Difference?
We've got a lot of jargon to keep up with in the insurance industry. In this episode, we're going to unpack the acronyms for the types of individuals and organizations that exist in the industry to help you make your some of your business decisions a whole lot easier.
Starting Your Own Insurance Agency, featuring Craig Ritter and Dave Dietz
What does it really take to create your own insurance agency? We sat down with Craig Ritter, President and Owner of Ritter Insurance Marketing, and Dave Dietz, Senior Vice President of Marketing at Ritter, to pick their brains on the subject. These are just some of the questions they answer: When do I create an LLC? What qualities do I look for in downline agents? Should I follow the 80/20 rule? Listen now for the answers to these questions and more!
The latest from Ritter's Blog:
The Agent Survival Guide Has a New Home
Big things are happening with the Agent Survival Guide in 2020! Now, all our Agent Survival Guide content is available on RitterIM.com. Here's everything you need to know about the... (read more)
Should You Become a Certified Insurance Counselor?
Are you considering becoming a Certified Insurance Counselor? For some agents, this certification may be something brand new! We're here to break down what this certification is, how you can obtain... (read more)
Pros and Cons of Having an Office Space Outside of Your Home
Having a designated space to work and be productive is essential for independent insurance agents. There are going to be advantages and disadvantages with deciding whether or not to acquire an office...(read more)
Subscribe & Follow:
Connect on social: