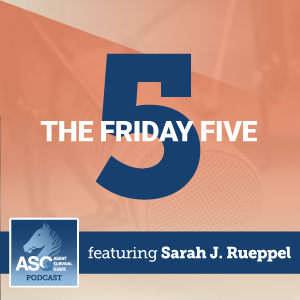 The Friday Five for February 28, 2020:
Coronavirus: Continuing Coverage
Apple Heartline Study
Medicare-for-all Explainer
Salesforce acquires Vlocity
Seema Verma speaks at NAHU Capitol Conference 2020
Mentioned in this episode:
CDC: Coronavirus Disease 2019 (COVID-19)
Coca-Cola could be in tight supply of artificial sweetener for diet and zero-sugar drinks because of coronavirus
Coronavirus's spread in U.S. is 'inevitable,' CDC warns
Here's that Medicare-for-all study Bernie Sanders keeps bringing up
Medicare and Medicaid Programs: Contract Year 2021 and 2022 Policy and Technical Changes to the Medicare Advantage Program, Medicare Prescriptions Drug Benefit Program, Medicaid Program, Medicare Cost Plan Program, and Programs of All-Inclusive Care for the Elderly
Salesforce grabs Vlocity for $1.33B, a startup with $1B valuation
Salesforce to Buy Vlocity in Vertical CRM Move
Speech: Remarks by CMS Administrator Seema Verma at the National Association of Healthcare Underwriters (NAHU) Capitol Conference 2020
Taylor Lorenz bylines in the New York Times
The Basics of 'Medicare for All'
Top health official warns coronavirus spread appears inevitable in US
Wall Street Is (Finally) Waking Up to the Damage Coronavirus Could Do
Why Apple and Johnson & Johnson's new heart study is a big deal for digital health
More episodes you'll like:
4 Steps to Every Final Expense Sale
Master your final expense sales pitch with these steps. We discuss how to help you bring up the subject of final expense with confidence and convert more prospects into clients.
Every 'Second' Counts: Why Sell Cancer, Heart Attack, and Stroke Insurance?
Build a portfolio that shows clients you care. Cancer, heart attack, and stroke insurance plans provide coverage and peace of mind when your clients need it most.
Ready to Join an FMO? 10 Things to Consider
Thinking about partnering with a field marketing organization? Wondering how you can tell the good from the bad? Our top 10 list outlines what you need to know before you partner with an FMO.
What Are Insurance Agents Responsible for Under HIPAA?
Stay HIPAA compliant with the Agent Survival Guide Podcast! Find out what you're responsible for under HIPAA regulations.
What Is E&O Insurance and Do You Need It?
You've worked hard to create and grow your insurance business — but how do you protect your investment? Even insurance agents need protection. In this episode, we make the case for errors and omissions (E&O) insurance.
The latest from Ritter's Blog:
 
Every 'Second' Counts: Why Sell Cancer, Heart Attack and Stroke Insurance?
Do you question the value of cancer, heart attack and stroke plans? Why would (or should!) anyone buy a policy that's so specific? We can think of a few good reasons...(read more)
Examining the Medicare Part B Premium Giveback
The standard monthly Part B premium cost for beneficiaries in 2020 is $144.60. Wouldn't it be nice if your clients could get some of that money back? Good news, this is a possibility...(read more)
The Top 5 Products to Sell During Medicare's Lock-In Period
Which products should a Medicare sales agent sell outside of the Annual Enrollment Period to keep earning commissions? We've got the top five additional plan types that should be a part of an agent's portfolio during the... (read more)
Subscribe & Follow:
Connect on social: