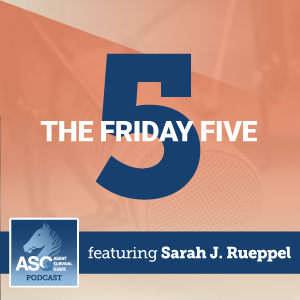 The Friday Five for February 14, 2020:
2021 Medicare Advantage and Part D Advance Notice Part II
The ACP and Medicare for all
1 in 5 Operations Could Lead to Surprise Medicare Bill
Study on American Credit Card Balances & Limits
Making the Best of Being Quarantined at Sea
Bonus: Last-minute Valentine gift ideas 💘
Mentioned in this episode:
2021 Medicare Advantage Advance Notice Part 1 – Risk Adjustment
2021 Medicare Advantage and Part D Advance Notice Part II Fact Sheet
1 in 5 Operations May Lead to "Surprise" Bills – Even When In-Network, Study Finds
CMS Proposes Significant Changes to Medicare Advantage and Part D for 2021 and Beyond
Doctors group breaks from health care industry with support for 'Medicare for All'
Here's a top reason American are carrying an average credit card balance of over $6,200
Medicare and Medicaid Programs: Contract Year 2021 and 2022 Policy and Technical Changes to the Medicare Advantage Program, Medicare Prescriptions Drug Benefit Program, Medicaid Program, Medicare Cost Plan Program, and Programs of All-Inclusive Care for the Elderly
Medicare Managers Hope to Life Agent Referral Fee Cap
Out-of-Network Bills for Privately Insured Patients Undergoing Elective Surgery With In-Network Primary Surgeons and Facilities
Quarantined By Coronavirus, Cruise Ship Passengers Make 'Life-Long Friends'
Surprise Billing in Elective Surgery
These Last-Minute Valentine's Day Gifts Will Make You Seem So Thoughtful
Valentine's Day Gift Guide 2020
We Found the 20 Best Last-Minute Valentine's Day Gifts on Amazon – and They're All Under $50
What Real People Actually Want For Valentine's Day
More episodes you'll like:
How Professional Organizations Make You a Better Agent
Joining a professional organization could be just the boost your career needs. Learn five ways this strategy can benefit you and your insurance business.
How to Market Yourself More Effectively
Not sure where to start when it comes to marketing yourself or your insurance business? Need to refresh your current marketing strategy? Listen to our marketing tips for insurance agents in this episode of our ASG Podcast.
Tips for Cross-Selling Medicare Products
Maximize your business and your profits by cross-selling. We've put together a list of tips to help you get started!
The latest from Ritter's Blog:
Why Go About Your Business in an Ethical, Compliant Fashion?
We've already told you the many ways you can remain compliant as an insurance agent. In this article, we want to focus on the "why." Why should you go about your business in an ethical, compliant... (read more)
The Agent Survival Guide Has a New Home
Big things are happening with the Agent Survival Guide in 2020! Now, all our Agent Survival Guide content is available on RitterIM.com. Here's everything you need to know about the... (read more)
Should You Become a Certified Insurance Counselor?
Are you considering becoming a Certified Insurance Counselor? For some agents, this certification may be something brand new! We're here to break down what this certification is, how you can obtain... (read more)
Subscribe & Follow:
Connect on social: