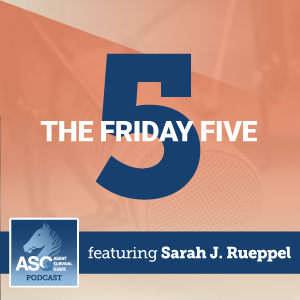 The Friday Five for May 29, 2020:
CMS Releases Final Rule for Medicare Advantage & Part D 2021
Telehealth on the rise with consumers
CMS Announces Part D Senior Savings Model featuring affordable insulin
Apple and Google Contact Tracing API
Kaiser Permanente releases Covid-19 Playbook
Mentioned in this episode:
Apple and Google release marks 'watershed moment' for contact-tracing apps
Be Prepared to Discuss Medicare Telehealth Coverage This AEP
CMS finalizes plan to allow Medicare Advantage plans to expand telehealth benefits
CMS Final Rule – Medicare Program; Contract Year 2021 Policy and Technical Changes to the Medicare Advantage Program, Medicare Prescription Drug Benefit Program, and Medicare Cost Plan Program
ChatableApps – Chatable Universal Hearing Aid
ChatableApps launches its hearing assistance app
Contract Year 2021 Medicare Advantage and Part D Final Rule (CMS-4190-F1) Fact Sheet
Coronavirus: First Google/Apple-based contact-tracing app launched
Kaiser Permanente COVID-19 Return to Work Playbook
Most Medicare enrollees could get insulin for $35 a month
President Trump Announces Lower Out of Pocket Insulin Costs for Medicare's Seniors
Three states will use Apple-Google contact tracing technology for virus tracking apps
Trump Administration Announces Changes to Medicare Advantage and Part D to Provide Better Coverage and Increase Access for Medicare Beneficiaries
Survey: 72% of consumers have changed healthcare use since COVID-19 pandemic
More episodes you'll like:
Guiding Your Agency Through COVID-19
It's an unprecedented time. COVID-19 has shut down businesses small and large, and if you're wondering how to run your business during a pandemic, you are not alone. How can your insurance agency continue to help clients and stay productive amidst the coronavirus pandemic? We've got some insight that might help.
How to Add Technology to Your Insurance Business
Need to bring technology into your business? Not sure where to begin? Start by listening to this episode! We'll help you revamp your insurance sales process.
The Best Software for Tracking Your Medicare Commissions
How do you track your Medicare commissions? Want a better solution? Listen to this episode of our ASG Podcast for suggestions on tracking (and troubleshooting!) your hard-earned insurance commissions.
The latest from Ritter's Blog:
Tips on How to Stay Productive When Working From Home
When your schedule is thrown for a loop due to something like COVID-19, or any other event that changes how you work, it can be hard to find a new normal.
A Review of the Top Medicare Quote Engines for Insurance Agents
An agent selling Medicare products is only as good as the Medicare quoting tool they're using. We're looking at agents' top options for fast and reliable Medicare quoting software and what makes them so special.
Ritter Can Help You Stay in Touch with Your Clients
In any type of business, client retention is just as important as taking on new clients. In the insurance world, once a sale is closed, your duty as an agent isn't over.
Subscribe & Follow:
Connect on social: