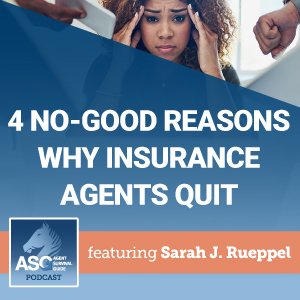 Ever want to just throw in the towel and stop being an insurance agent? We've been there! But, before you do anything you might regret, listen to this episode.
Mentioned in this episode:
4 Reasons Why Ritter Should Be Your FMO
Agent Survival Guide Blog at RitterIM.com
Building Client Loyalty: More than Just a Plan
Do You Have What it Takes to Be a Great Agent?
I Am Ready to Quit Selling Insurance
Ritter Insurance Marketing Official Website
Ritter's Medicare Quote Engine
Ritter's 100K Cash Giveaway Is Back with New Prizes for 2020!
Top 10 Reasons Why Insurance Brokers or Agents Fail
Why Taking it Slow is Good for Business
More episodes you'll like:
5 Real-Life Medicare Scenarios & How to Handle Them
Just because a client's situation is more challenging, doesn't mean you can't help them get the coverage they need and complete the sale. In this episode, we help you prepare for some of the tougher cases you may encounter out in the field.
5 MORE Real-Life Medicare Scendarios & How to Handle Them
Ready for 5 more challenging insurance sales scenarios and their solutions? Listen to learn how you can handle these potential dilemmas and still close the sale.
Tips for Working with a Difficult Client
Ever have a difficult client? Check out our tips on how to work through three frustrating (but common!) situations insurance agents face in the field. We've got some advice on when to walk away, too.
The latest from Ritter's Blog:
How to Check for Your First Looks
The moment when carrier First Looks become available is a very exciting time for insurance agents! It can put a spring in your step and help you get in the mood for the upcoming Annual Enrollment Period!
2021 Maximum Broker Commissions for Medicare Advantage & Medicare Part D
Ritter has everything you need to know about 2021 maximum broker commissions for Medicare Advantage and Medicare Part D initial enrollments. Note: Insurance providers are NOT REQUIRED to pay the maximum commission rate.
Reassuring Clients During Difficult Times
During times of uncertainty, like the COVID-19 pandemic, it is likely that your clients will look to you for reassurance, and answers. Are you prepared to provide the support they are seeking?
Subscribe & Follow:
Connect on social: