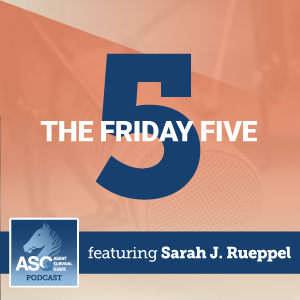 The Friday Five for July 31, 2020:
Trump's Executive Orders on Drug Pricing
Movement on Next Stimulus Bill
2021 Medicare Part B Premium Proposal
Humana & Heal
Kaiser Family Foundation Study on COVID-19 and Kids
Mentioned in this episode:
Economic relief talks ramp up as GOP releases bill: Democrats, White House officials meet
Everything Coming to Netflix, Disney+, HBO Max, Hulu & Amazon Prime Video in August 2020
Humana invests $100 million in telehealth start-up Heal
Medicare Part B premium would be frozen in Republicans' HEALS relief bill
Pharma execs, upset by Trump's drug pricing executive orders, refuse White House meeting
The Second Stimulus Package Proposal: How HEALS Act Will Affect You
Trump signs series of executive orders aimed at lowering drug costs
What Do We Know About Children and Coronavirus Transmission?
More episodes you'll like:
July 24, 2020 | The Friday Five
The Friday Five for July 24, 2020: Six Months of COVID-19; WFH Productivity Tips; Windows 10 Hacks; Built To Last Branding Conference; and Diamond Wars.
2021 Medicare Advantage and Part D Certification Info
Looking for 2021 Medicare Advantage and Medicare Part D agent certification and product training details? Find out how to get carrier AHIP, Medicare Advantage certification, Part D certification, and product training details in one convenient place!
5 Must-Haves for Every Insurance Agent This AEP
Are these must-haves part of your strategy for this Annual Enrollment Period? They should be! Listen as we highlight five essentials to simplify your Medicare sales this AEP.
The latest from Ritter's Blog:
Tips for Becoming a Top-Producing Insurance Agency
Becoming a top producing agency isn't something that happens overnight. It will take work and maybe a bit of trial and error to see what will work best for your business and sales flow.
FAQs About NAHU Medicare Certification
Got questions about NAHU's Medicare Advantage and Part D certification training? We've got answers!
NEW: NAHU 2021 Medicare Certification Training
New this year, NAHU is offering a Medicare certification training for agents who'd like to sell 2021 Medicare Advantage and Part D products for the Annual Enrollment Period.
Subscribe & Follow:
Connect on social: