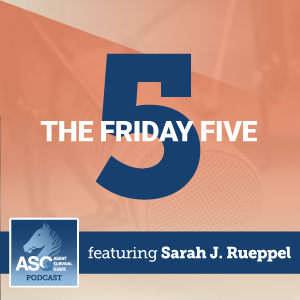 The Friday Five for August 28, 2020:
Closing the Sale & Managing Rejection
CDC Changes Travel Quarantine Guidance
Teams vs. Zoom
Pandemic Relief for Small Businesses
Client Conversation Starters
Mentioned in this episode:
4 Mistakes You're Probably Making If You're Struggling to Close a Sale
4 Post-PPP Coronavirus Relief Programs for Small Biz
5 Ways to Keep Moving Ahead After a Rejected Pitch
9 Reasons to Call Your Client Right Now
CDC drops 14-day self-quarantine recommendation for out-of-state, international travelers
Microsoft Teams Issues New Blow to Zoom With These Superb Features
What's New to Stream in September on Netflix, Hulu, Amazon, Disney+, and More
More episodes you'll like:
August 21, 2020 | The Friday Five
The Friday Five for August 21, 2020: USPS and Insurance Mail; Underwriting & COVID-19; Food insecurity in Medicaid beneficiaries; Order of coronavirus symptoms; Ritter's Virtual Summits for Insurance Agents
The Ritter Platform Launches New Drug Cost Estimator and Prefilled Applications
Big News! We've added two brand-new features to The Ritter Platform - a Prescription Drug Cost Estimator and Prefilled Applications! Learn more about these new additions and how they can simplify your selling process this AEP.
Tips for Becoming a Top-Producing Agency
Becoming a top-producing insurance agency is a great goal. But how do you get there? In this episode of our ASG Podcast, we've got some tips to help you get started. We've also got a link to a FREE guide that takes a deep dive on starting and developing your agency.
What Agents Forget to Do When Preparing for Appointments
Do you have everything you need for a full day of Medicare sales appointments? What about the client who wants to talk Med Supp but lives an hour away? This small list of actionable to-dos will make a big impact on keeping you organized and stress-free this AEP.
The Ritter Platform is a CRM for insurance agents selling Medicare and other senior market products! Consolidate client info, analyze prescription drug costs, access carrier resources, get info on commissions and more. What could you be saving time on?!?
The latest from Ritter's Blog:
The Ritter Platform Launches New Drug Cost Estimator and Prefilled Applications
Two brand-new features have been added to our comprehensive agent dashboard. Say "hello" to the Drug Cost Estimator and prefilled applications!
5 Tips for Using Medicareful to Sell More Medicare Plans
Medicareful gives agents the potential to double or triple their capacity to safely engage prospects and enroll clients! How can you maximize your site and Medicare sales? To start, request your free Medicareful page here!
Why Being a Likable Agent Is Good for Your Business
How you present yourself as an agent can make or break your business. You may think, "It doesn't matter what other people think of me," which in some ways is true. But when it comes to how people view you professionally, their opinions do matter.
Subscribe & Follow:
Connect on social: