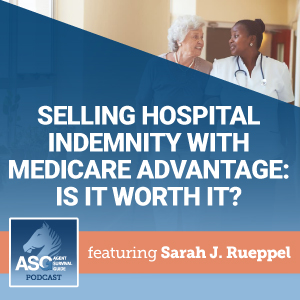 How can you shield your Medicare clients from the rising cost of a hospital stay? With hospital indemnity insurance! Discover why this plan is a must-have for your selling portfolio. 
Mentioned in this episode:
A Dozen Facts About Medicare Advantage in 2020
Boost Business Selling Hospital Indemnity Insurance
Defining the True Value of $0 Premium for Medicare Advantage Plans
Overview of U.S. Hospital Stays in 2016: Variation by Geographic Region
Medicare Advantage Versus the Traditional Medicare Program: Costs of Inpatient Stays, 2009-2017
Sweeten the Deal with Hospital Indemnity Insurance
Top 10 Podcast Apps for Insurance Agents
More episodes you'll like:
4 Ancillary Cross-Sales to Show Clients You Care
Ready to get started cross-selling? What products can you cross-sell with Medicare? Build up your insurance portfolio with our list of must-have ancillary products!
5 Tips for Selling Medicare Advantage Plans
Rock your Medicare Advantage sales goals this AEP! Learn five ways you can make this Annual Enrollment Period your most successful yet. Our tips can help you grow your commissions and your book of business.
Boost Business Selling Hospital Indemnity Insurance
Want to grow your insurance business? Learn more about hospital indemnity insurance, a powerful ancillary tool for your portfolio. We cover what you need to know, from the basics to closing the sale!
Learn How to Cross-Sell Ancillary Insurance with Medicare Products
Ready to boost your Medicare business? Increase your sales commissions and improve client retention at the same time, all without additional certifications. Learn about the power of cross-selling and how you can get started today!
Medicare MSA Plans & Hospital Indemnity Insurance: The Perfect Pair
Learn how Medicare MSA and hospital indemnity insurance pair up to create a dynamic duo! Trust us, you don't want to leave these plans out of your portfolio this AEP!
The latest from Ritter's Blog:
The Ritter Platform Launches New Drug Cost Estimator and Prefilled Applications
Two brand-new features have been added to our comprehensive agent dashboard. Say "hello" to the Drug Cost Estimator and prefilled applications!
5 Tips for Using Medicareful to Sell More Medicare Plans
Medicareful gives agents the potential to double or triple their capacity to safely engage prospects and enroll clients! How can you maximize your site and Medicare sales? To start, request your free Medicareful page here!
Why Being a Likable Agent Is Good for Your Business
How you present yourself as an agent can make or break your business. You may think, "It doesn't matter what other people think of me," which in some ways is true. But when it comes to how people view you professionally, their opinions do matter.
Subscribe & Follow:
Connect on social: