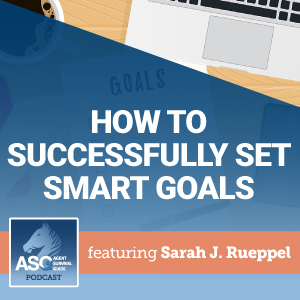 New year... new goals! Are your 2021 business goals SMART? Learn how this strategy can help your insurance business boom in the new year. Our goal? To help you do it.
Mentioned in this episode:
Ritter Insurance Marketing Official Website
Three Reasons Unrealistic Goals Create a Culture of Failure
What is AHIP Certification and How Do I Get It?
Why Taking It Slow is Good for Business
More episodes you'll like:
Are you a productive insurance agent? Is your way of doing business efficient? We talk efficiency, productivity, and how to find a balance between the two in this exclusive episode. 
How to Build Rapport Selling Insurance Online and Over the Phone
Learn how to better connect with your sales prospects - even if those interactions are now happening virtually. We have 6 tips you can add to your insurance sales process today!
How to Use Story-Telling in Your Sales Pitch
Could your sales pitch use some work? Learn how to transform a lackluster insurance presentation with storytelling!
Ritter Can Help You Stay in Touch with Your Clients
Client retention starts with outreach, but if you're not sure how to do that, we've got you covered. Listen to get four ways to reach out and the details on some FREE templates you'll want to get your hands on!
Top 5 Podcasts of 2020 | The Friday Five
We don't just make a podcast, we love listening to them, too! Despite 2020 effectively cancelling her commute, our host Sarah listened over 7,000 minutes of podcast audio. Which shows made it into her top 5 for 2020? Listen to find out in this bonus Friday Five episode!
Articles to Share with Your Clients:
4 Secrets to Keeping Your New Year's Resolution
This year, our New Year's resolution is to help you keep yours! Here are the four secrets to keeping your New Year's resolution.
Healthy Hacks for Your Favorite Snacks: New Year's Eve
New Year's Eve is getting near, and with it, parties. Ring in the New Year without busting your diet with these healthy New Year's dishes.
Reading as a hobby is sadly shrinking in the United States. This year, crack open more books than ever before with these tips.
The latest from Ritter's Blog:
Does Your Medicare Sales Approach Satisfy Different Budgets?
We all know the saying, "money doesn't grow on trees." Many people have limited incomes, but you can help them with budgeting for a Medicare plan to afford the health care they may need.
In the insurance industry, leads are what sustain your business. Of course, you need the contracts, training, and other skills to be a successful insurance agent, but without leads, you'll just be spinning your wheels.
What is AHIP Certification and How Do I Get It?
You have your leads in hand and your contracts signed, so you're ready to sell, right? Well… almost. Did you complete your AHIP certification yet?
Subscribe & Follow:
Connect on social: