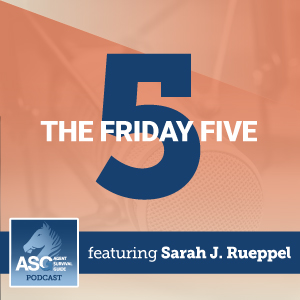 The Friday Five for January 29, 2021:
Ritter Insurance Marketing & Quick Insured Brokerage
Online Medical Accounts & COVID-19 Vaccine Registration
Do's and Don'ts of the COVID-19 Vaccine
PPP Loan Tax Information for Small Businesses
Blackstone & Allstate Life Insurance
Mentioned in this episode:
45% of adults over 65 lack online medical accounts that could help them sign up for COVID-19 vaccinations
Aldi Sells Heart-Shaped Pasta That Can Be Made Into Any Dish You Want
Blackstone to Buy an Allstate Life Insurance Business for $2.8 Billion
Do You Have to Pay Taxes on Your PPP Loan?
Get registered with RitterIM.com
Kraft Debuts Hot Pink Mac and Cheese for Valentine's Day – And It Tastes Like Candy
Nearly half of adults older than 65 don't have online medical accounts that could connect them with COVID-19 vaccines
Ritter Continues Expansion, Acquires Ohio-Based Quick Insured Brokerage
What's New on Netflix, Amazon, Hulu, Disney+, and More in February 2021
What to do, and not do, before and after your Covid vaccine shot
When Can I Get a COVID-19 Vaccination? (Medicareful Living Blog)
More episodes you'll like:
January 22, 2021 | The Friday Five
The Friday Five for January 22, 2021: Biden Names Dr. Rachel Levine in Cabinet Picks, Mark Cuban Announces Cost Plus Drugs, Mental Health and the Fake Commute, Talkspace To Go Public, and Ritter Insurance Marketing and HTA Financial Services
How to Get Started in Medicare Sales
New to the Medicare insurance industry? Welcome, and congratulations! We packed this episode with all the agent essentials - training, tools, enrollment periods and more! Basically, everything you want to know when starting out!
How to Check Medicare Extra Help Eligibility for Your Client
Is your client eligible for Medicare Extra Help (Low Income Subsidy/LIS)? Learn how insurance agents can look up that information, what the income limits are, and more in this can't miss episode!
Articles to Share with Your Clients:
5 Ways to Warm Up Quickly in the Winter
Nobody likes being cold, and sometimes, it can even be dangerous. Beat the cold this winter with a few effective ways to warm up quickly!
Finding a Purpose Makes You Happier, Healthier
Having a purpose or guiding passion in your life can help you deal with stress, be happier, and even live longer. Here are all the ways living with a purpose benefits you and how you can find yours!
When Can I Get a COVID-19 Vaccination?
There are many questions surrounding the rollout of the COVID-19 vaccination. When can you get one? Where? Is it safe? We're giving you some answers and resources where you can find additional information!
The latest from Ritter's Blog:
Best Practices for Writing an Email to Your Insurance Clients
A professional and effective business email takes some thought and care to construct. This is true across all industries — and even for insurance agents writing marketing or follow-up emails to their clients.
How to Be an Adaptable Insurance Agent
In today's ever-changing world, being adaptable is not only good for business, it's a necessity. As an insurance agent, you need this skill to keep up with the times and your clients' unique needs.
How to Take on an Upset Client in the Insurance Industry
At least once in your sales career, you may meet an insurance client who had a negative experience with another agent, plan, or insurance in general. While these bad experiences were out of your control, you have the ability to make their next experience a positive one!
Subscribe & Follow:
Connect on social: