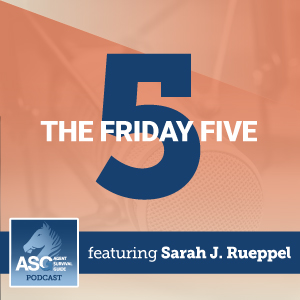 The Friday Five for February 26, 2021:
President Biden nominates CMS Administrator
CMMI Admin picked by Biden Administration
Johnson & Johnson COVID-19 Vaccine News
Fighting Zoom Fatigue
YouTube Supervised Experiences
Mentioned in this episode:
Biden Picks Health Policy Veteran to Run CMS
Biden selects Chiquita Brooks-LaSure as first Black woman to run Medicare
Dunkin' adds avocado toast, matcha-topped doughnut and blueberry matcha latte to its spring menu
FDA review confirms safety and efficacy of single-shot Johnson & Johnson coronavirus vaccine, especially against severe cases
Report: Obama administration veteran Fowler tapped to head CMMI
Sick of all those video calls? Four ways to get over 'Zoom fatigue'
Youtube's 'supervised experiences' help parents choose what content their kids can see
Youtube Will Introduce Supervised Accounts with Parental Controls for Teens and Tweens
More episodes you'll like:
February 19, 2021 | The Friday Five
The Friday Five for February 19, 2021: Humana launches new pilot program, Remote work tips for 2021, KFF study on COVID-19 vaccination so far, News about LastPass and alternatives and Microsoft Edge Kids Mode
Best Practices for Writing an Email to Your Insurance Clients
Write emails with confidence! We outline the best (and easy to implement!) practices for insurance agents to use when emailing clients.
Medicareful 2020 Year-in-Review: Here's What We Accomplished
What is Medicareful? How does it work? If you've been looking for a tool that combines online enrollment, client-facing plan quotes, drug cost estimates, a free CMS-compliant website, and more... don't miss this episode! We review updates to the Medicareful platform over the past year, and what our agents achieved while using it!
Articles to Share with Your Clients:
Our vision is one of our most important senses, dictating much of how we interact with the world. If you're experiencing visual impairment, there are ways to not let it impact your quality of life as much.
The Benefits of Healthy Proteins
Proteins are an important part of any meal, but too much can be unhealthy for our hearts. Here's why proteins are so healthy for us and sources of lean protein to incorporate in your diet.
The Truth About Expiration Dates
If you find food in the fridge that's past its Best By date, that means throw it out since it's expired, right? Let's look into the truth about Expiration Dates.
The latest from Ritter's Blog:
Ritter is More Than Medicare & Our New Team Brand Shows Why
When selling Medicare Advantage and Medicare Supplement policies, it's important to remember that More than Medicare products are the missing pieces of the puzzle.
Medicare Advantage Trial Rights Explained for Agents
If you have a client who enrolled in a Medicare Advantage plan but wants to go (back) to Original Medicare, they may qualify for a Medicare Advantage trial right! This would allow them to update their coverage outside of the Annual Enrollment Period.
Ritter Continues Expansion, Acquires Ohio-Based Quick Insured Brokerage
Ritter has announced its merger with Ohio-based Quick Insured Brokerage (QIB), an independent wholesale brokerage agency.
Subscribe & Follow:
Connect on social: