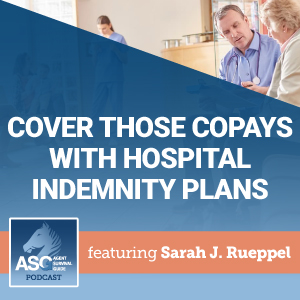 Ready to start selling Hospital Indemnity? This episode covers the benefits of these insurance plans and how to cross-sell them with existing products in your portfolio.
*Ritter does not currently contract for hospital indemnity plans in AK, CA, NH, or NY.
Mentioned in this episode:
A Quick Guide to Cross-Selling Ancillary Insurance with Medicare Products
FREE eBooks and Guides for Insurance Agents
More episodes you'll like:
4 Ancillary Cross-Sales to Show Clients You Care
Ready to get started cross-selling? What products can you cross-sell with Medicare? Build up your insurance portfolio with our list of must-have ancillary products!
Boost Business Selling Hospital Indemnity Insurance
Ready to grow your insurance business? Learn more about hospital indemnity insurance, a powerful ancillary tool for your portfolio. We cover what you need to know, from the basics to closing the sale!
How to Cross-Sell Insurance: The Advisor Approach
Ready to improve your cross-selling technique? Not sure where to start? We recommend using the advisor approach, a simple method any agent can use for insurance cross-sales.
Secure a Bigger, Better Business with Ancillary Products
Ready to branch out from Medicare Advantage or Medicare Supplement Insurance sales? Learn how ancillary products can help you expand your reach and add more value to your portfolio.
Selling Hospital Indemnity Insurance with Medicare Advantage: Is It Worth It?
How can you shield your Medicare clients from the rising cost of a hospital stay? With hospital indemnity insurance! Discover why this plan is a must-have for your selling portfolio.
Articles to Share with Your Clients:
Is Medicare the Only Health Insurance I Need?
In many situations, your Medicare plan has you covered at the best of times and the worst of times. But, it may be worth looking into these extra insurance plans.
I've Gotten the COVID Vaccine. Now What?
Once you've received the COVID-19 vaccine, you may be wondering what's next? Can you return to normal life? The answer is a little complex.
Start Your Green Thumb with a Windowsill Garden
If you've ever wanted a garden, but don't have the space or time, you're in luck! Growing a windowsill garden can make it both easier and more convenient to have a garden.
The latest from Ritter's Blog:
Why Insurance Agents Fail (& How Not To!)
There are many reasons why insurance agents may "fail" or not be as successful as they originally set out to be. Let's discuss some of those obstacles, and how to overcome them!
Ritter is More Than Medicare & Our New Team Brand Shows Why
When selling Medicare Advantage and Medicare Supplement policies, it's important to remember that More than Medicare products are the missing pieces of the puzzle.
Medicare Advantage Trial Rights Explained for Agents
If you have a client who enrolled in a Medicare Advantage plan but wants to go (back) to Original Medicare, they may qualify for a Medicare Advantage trial right! This would allow them to update their coverage outside of the Annual Enrollment Period.
Subscribe & Follow:
Connect on social: