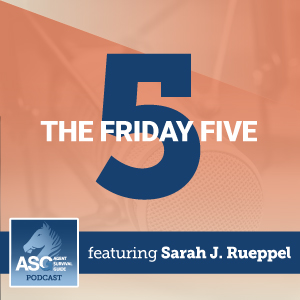 The Friday Five for April 30, 2021:
CDC Updates Guidance on Outdoor Masking
Networking During a Pandemic
Modern Marketing Basics
Ritter's State of the Senior Market 2021
Spotify Announces Podcast Subscriptions
Mentioned in this episode:
4 Ways to Effectively Network Today
6 Modern Marketing Basics That New Business Owners Must Prioritize
CDC says many American can now go outside without a mask
C.D.C. Eases Outdoor Mask Guidance for Vaccinated Americans
Everything Coming to Netflix, Disney+, HBO Max, Hulu & Amazon Prime video in May 2021
How to Market Yourself Effectively
Netflix's new 'Play Something' shuffle feature is here to solve your movie night indecision
Register for Ritter's State of the Senior Market 2021
The podcast paywall wars have arrived
More episodes you'll like:
April 23, 2021 | The Friday Five
The Friday Five for April 23, 2021: National Take Chance Day, AHIP Training Update, Kaiser Family Foundation Medicare Prescription Drug Study, Embracing Lillördag for Mental Wellness, and Apple Podcasts New Features.
5 Tips for Creating Your Personal Brand
Branding yourself sets your insurance business apart from the competition. Check out our tips before you begin developing your personal brand.
Why It's Time to Take a More Relaxed Approach to Insurance Sales
Is the hard sell making it harder for you to sell insurance? High-pressure tactics don't work like they used to. Find out what you can do differently and still make the sale.
Articles to Share with Your Clients:
Superfood Snack Hacks: Healthy Cauliflower Recipes
Cauliflower has many health benefits, but one of its strengths is how easy it is to add to your diet. Here are a few healthy cauliflower recipes that you'll love!
The Hidden Health Benefits of Bowling
Bowling isn't often thought of as a fitness option, but there are a surprising number of ways bowling can benefit your health and make you fitter and happier!
What is the Medicare Part B Premium Giveback?
Medicare is affordable health care coverage for many, but some Medicare Advantage plans have what's called a Medicare Part B Premium Giveback. What does that mean for you?
The latest from Ritter's Blog:
Prospecting for Clients for Dental, Vision, and Hearing Insurance Sales
If you're considering selling dental, vision, and hearing (DVH) plans, where would you find leads? You might be surprised to learn that your DVH prospects could already be in your Medicare book of business!
How to Help Your Clients Get the Most Out of Their Medicare Advantage Plans
As an agent, you want to make sure your clients are getting the most out of their coverage. This means informing them of all the benefits their plans offer.
Medicare Isn't Just for Seniors: Selling to the Under-65 Market
Although many agents and insurers market Medicare toward senior citizens, they aren't the only people covered by this government program. In fact, more than eight million Medicare recipients are under the age of 65.
Subscribe & Follow:
Connect on social: