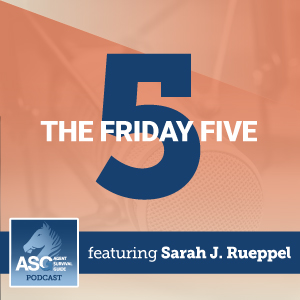 The Friday Five for May 28, 2021:
New CMS Admin Confirmed
State of Medicare Advantage 2021
Retirement Bill Reintroduced
Noom Hopes to Expand
Facebook, Instagram New Feature
Mentioned in this episode:
Chiquita Brooks-LaSure becomes the first Black administrator confirmed to lead Medicare and Medicaid.
How to Hide Like and View Counts on Instagram Posts
Instagram, Facebook give users option to hide likes
S.1770 - A bill to amend the Internal Revenue Code of 1986 to reform retirement provisions, and for other purposes.
Senate confirms Biden pick to lead Medicare, Medicaid office
Senate Revives Bill to Raise RMD Age, Boost Income Annuities
State of Medicare Advantage 2021
Weight loss app Noom hauls in $540M to expand into diabetes, high blood pressure
You can now hide like counts on Instagram and Facebook
More episodes you'll like:
May 21, 2021 | The Friday Five
The Friday Five for May 21, 2021: CDC Masking Guidelines Update, HHS and Funding to Fight Addiction and Mental Health Crisis, April 2021 Fed Minutes, Jobs Report, and Inflation, Combatting Fake News, and Ritter's State of the Senior Market 2021
What an FMO Can Do for Your Business
Why work with an FMO? What is a Field Marketing Organization? Whether you're just starting out or on the fence about joining an FMO, this can't-miss episode has all the details!
Selling Medicare Products – Why It's Definitely Worth Your While
Why sell Medicare insurance products? We outline the reasons to start a career as an independent insurance agent in the Medicare market. Listen now to learn more!
Articles to Share with Your Clients:
2022 COLA Predicted to be Largest in Over a Decade
Each year, the Social Security cost-of-living adjustment (COLA) tweaks how much you receive in your benefit. For 2022, experts are predicting the largest COLA increase in over a decade.
Allergies are very common and can be a real drain on your quality of life. In worst cases, they can even be deadly. How can you go about life dealing with allergies?
What are Medicare Deductibles?
We've all dealt with deductibles before, in all sorts of insurance plans. They're so common that many people and plans don't easily explain what they are and how they influence your coverage. We're answering so you don't have to ask – what are Medicare deductibles?
The latest from Ritter's Blog:
Advertising Medicare Through Facebook
In a world where social distancing has become the norm, we've all turned to social media to stay connected with others. Why not advertise Medicare on social media and grow your insurance business digitally?
How to Help Your Clients Get the Most Out of Their Medicare Advantage Plans
As an agent, you want to make sure your clients are getting the most out of their coverage. This means informing them of all the benefits their plans offer.
Medicare Isn't Just for Seniors: Selling to the Under-65 Market
Although many agents and insurers market Medicare toward senior citizens, they aren't the only people covered by this government program. In fact, more than eight million Medicare recipients are under the age of 65.
Subscribe & Follow:
Connect on social: