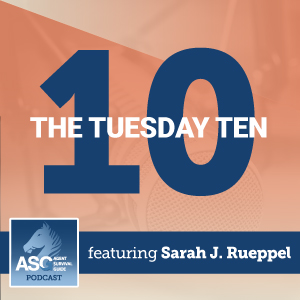 Did someone say Summer 2021 Podcast Recommendations? Back by popular demand, Sarah has 10 more podcast recommendations to fill the void in your Summer vacation. Whether you're taking a family vacation, staycation, traveling back into the office, or just need something new to listen to, we've got you covered! 🌞😎🎧
Mentioned in this episode:
Alba Salix, Royal Physician – Start with "Alba Salix E101: Well Met"
Blackout by QCode – Start with "Pilot | S1E1"
Eleanor Amplified – Start with "Ep 01: Pilot (Robot)
Memory Lane by Realm – Start with "None of this is Real"
Mockery Manor – Start with "1. Where Childhood Never Dies"
Passenger List by Radiotopia – Start with "Pre-Flight Announcement"
The A.M. Archives – Start with "601 – For People Like You | The AM Archives"
More episodes you'll like:
Podcasts We're Currently Listening To (Winter 2021) | The Friday Five
We're kicking off the first Friday Five episode of 2021 with podcast recommendations! Here are five podcasts that our host, Sarah is currently listening to. 🎧
Top 5 Podcasts of 2020 | The Friday Five
We don't just make a podcast, we love listening to them, too! Despite 2020 effectively cancelling her commute, our host Sarah listened to over 7,000 minutes of podcast audio. Which shows made it into her top 5 for 2020? Listen to find out in this bonus Friday Five episode!
International Podcast Day 2020
Happy International Podcast Day! 2020 has certainly been a year to, er, remember. There's a lot of that reflected in this year's episode. But there's also a fair bit of fun. Sarah shares it all in this episode – podcast recommendations, standout episodes, updates, bonus content, and more, including what makes her want to listen.
Podcast Recommendations for Summer 2020 | The Tuesday Ten
Summer is here! 🌞 That means it's time for MORE podcast recommendations! If you need something to listen to during a long drive, while you're on a vacation, staycation, or just walking around the neighborhood after dinner… Sarah has 10 new podcast recommendations for your listening enjoyment.
Podcasts We're Currently Listening To | The Friday Five
Need more podcast recommendations? (Who doesn't?!) For our last Friday Five of 2019, Sarah gives you a glimpse of what she's currently listening to.
Top 5 Podcasts of 2019 | The Friday Five
We love podcasts! Our host, Sarah listened to over 8,500 minutes of podcast audio this year. Which shows made the cut for her top 5 of 2019? Find out in this special Friday Five episode!
International Podcast Day 2019
It's International Podcast Day and we're celebrating! This special episode has updates on our favorite podcasts, MORE podcast recommendations, and Sarah talks about how she got into podcasts. You don't want to miss it! 🎙🎧🤓
Behind the Scenes of the ASG Podcast ǀ ASG100
Celebrate 100 episodes of the Agent Survival Guide Podcast! In this special episode, we talk about how Agent Survival Guide and the ASG Podcast started, what we've got planned for 2019, podcast recommendations from our team, and more! 💯🎉
Subscribe & Follow:
Connect on social: