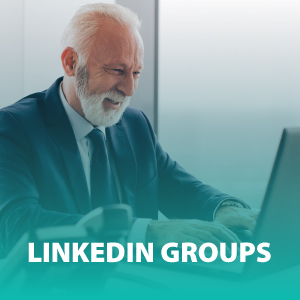 Learn how to use LinkedIn Groups to target your audience and build connections! Get ready to join a group and join the conversation.
Mentioned in this Episode:
Ritter's Insurance Agents Questions and Answers Group on LinkedIn: https://www.linkedin.com/groups/4136884
Ritter Insurance Marketing on LinkedIn
More episodes you'll like:
Insurance Agents & CMS Compliance | Social Media 101
Stay compliant with the CMS Medicare Communications and Marketing Guidelines — even while on social media. We outline the best practices for insurance agents to follow while using social media.
Social Media Privacy Tips for Insurance Agents | Social Media 101
Online privacy is a big deal. You want to use social media to market your insurance business. How do you protect yourself and your clients? We've got some best practices and a link to a very informative eBook that's free to download. Listen to find out more!
Top 10 Podcast Apps | Agent Apps
Which podcast app is the best? Do you listen on the number one app or a different one? What features are you missing out on? In the premiere episode of our newest series, Agent Apps, we explore the top 10 podcast listening apps and the features that make each one unique.
The latest from Agent Survival Guide:
What's New in the 2020 Medicare Communications and Marketing Guidelines?
Recently, the Centers for Medicare & Medicaid Services released a memo outlining the changes to the Medicare Communications and Marketing Guidelines (MCMG) for the 2020 plan year. Updates may affect... (read more)
Rules for Hosting a Compliant Medicare Educational Event
Holding an educational presentation is a fantastic way to grow your client base, but you must make sure to stay compliant. The Centers for Medicare and Medicaid Services (CMS) have set forth... (read more)
AHIP Test Tips and Tricks for Medicare Certification
Planning on taking the AHIP Medicare training test for the first time? You don't have to stress! We've put together a list of tips and tricks for passing AHIP that will help... (read more)
Subscribe & Follow:
Connect on social: