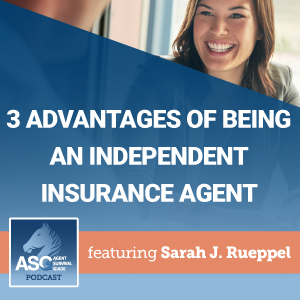 Captive or independent? Which path is right for you? In this episode of our ASG Podcast, we highlight three reasons to choose the independent agent route. 
Mentioned in this episode:
3 Tips to Becoming an Independent Insurance Agent
7 Reasons to Choose an Independent Agent
Building Client Loyalty: More than Just a Plan
Captive Agent vs. Independent Agent
Ritter's Medicare Quote Engine
Top 5 Benefits of Using an Independent Insurance Agent
What Is the Difference Between Captive and Independent Insurance Agents?
More episodes you'll like:
4 Perks of Being a Part-Time Insurance Agent
Thinking about joining the ranks of insurance agents selling Medicare for a living? Not really sure if becoming a senior health insurance agent is the right career path for you? We get it! What if you could give it a practice run before giving up your full-time job? In this episode of the ASG Podcast, we discuss the benefits of starting out as a part-time insurance agent.
4 Reasons Why Ritter Should Be Your FMO Insurance Agency
Looking for an FMO? Not sure what a field marketing organization like Ritter Insurance Marketing can do for your insurance business? Learn everything you need to know in this can't-miss episode of the ASG Podcast!
FMO vs. IMO vs. NMO vs. MGA vs. GA: What's the Difference?
We've got a lot of jargon to keep up with in the insurance industry. In this episode, we're going to unpack the acronyms for the types of individuals and organizations that exist in the industry to help you make your some of your business decisions a whole lot easier.
Ready to Join an FMO? 10 Things to Consider
Thinking about partnering with a field marketing organization? Wondering how you can tell the good from the bad? Our top 10 list outlines what you need to know before you partner with an FMO.
What an FMO Can Do for Your Business
Why work with an FMO? What is a Field Marketing Organization? If you've been on the fence about joining an FMO, this can't-miss episode is for you!
The latest from Ritter's Blog:
How to Check for Your First Looks
The moment when carrier First Looks become available is a very exciting time for insurance agents! It can put a spring in your step and help you get in the mood for the upcoming Annual Enrollment Period!
2021 Maximum Broker Commissions for Medicare Advantage & Medicare Part D
Ritter has everything you need to know about 2021 maximum broker commissions for Medicare Advantage and Medicare Part D initial enrollments. Note: Insurance providers are NOT REQUIRED to pay the maximum commission rate.
Reassuring Clients During Difficult Times
During times of uncertainty, like the COVID-19 pandemic, it is likely that your clients will look to you for reassurance, and answers. Are you prepared to provide the support they are seeking?
Subscribe & Follow:
Connect on social: