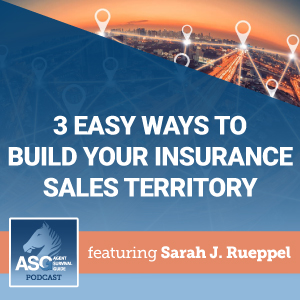 Maximize your reach and grow your selling territory! We outline the best practices for insurance agents to follow.
Mentioned in this episode:
5 Tips for Creating Your Personal Brand
Build Your Brand with Community Involvement
Do's and Don'ts of Medicare Compliance
Learn How Medicareful Saves Insurance Agents Time
What is Medicare? (Medicare 101 Video)
Rules for Hosting a Compliant Medicare Educational Event
Rules for Hosting a Compliant Medicare Sales Event
Why Client Retention Should be Your Top Priority
Why Traditional Marketing is Still Effective
More episodes you'll like:
How Client Retention Boosts Your Insurance Sales
Master the art of treating your client as the renewal, not their policy. Learn why building relationships with your current clients is more beneficial (and cost effective!) than courting new ones.
Medicareful 2020 Year-in-Review: Here's What We Accomplished
What is Medicareful? How does it work? If you've been looking for a tool that combines online enrollment, client-facing plan quotes, drug cost estimates, a free CMS-compliant website, and more... don't miss this episode! We review updates to the Medicareful platform over the past year, and what our agents achieved while using it!
Methods to Boost Your Medicare Business
Optimize your Medicare insurance business with help from our FMO – Ritter Insurance Marketing! Our strategies generate leads and sales. Find out how you can apply these tips just in time for AEP success.
Articles to Share with Your Clients:
5 Ways to Get Dual Citizenship
You're interested in reclaiming your heritage with dual nationality, but how do you go about getting dual citizenship? You have a surprising number of options!
Signs of Eating Disorders to Watch for in Seniors
Eating disorders are often considered afflictions of the young and vain, but sadly, seniors also suffer from these deceptive, dangerous conditions.
When Can I Get a COVID-19 Vaccination?
There are many questions surrounding the rollout of the COVID-19 vaccination. When can you get one? Where? Is it safe? We're giving you some answers and resources where you can find additional information!
The latest from Ritter's Blog:
Ritter is More Than Medicare & Our New Team Brand Shows Why
When selling Medicare Advantage and Medicare Supplement policies, it's important to remember that More than Medicare products are the missing pieces of the puzzle.
Medicare Advantage Trial Rights Explained for Agents
If you have a client who enrolled in a Medicare Advantage plan but wants to go (back) to Original Medicare, they may qualify for a Medicare Advantage trial right! This would allow them to update their coverage outside of the Annual Enrollment Period.
Ritter Continues Expansion, Acquires Ohio-Based Quick Insured Brokerage
Ritter has announced its merger with Ohio-based Quick Insured Brokerage (QIB), an independent wholesale brokerage agency.
Subscribe & Follow:
Connect on social: