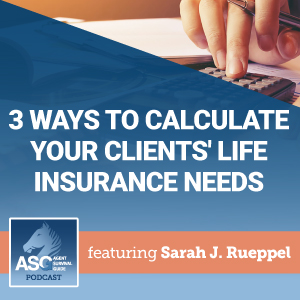 How do you calculate the amount of life insurance your client needs? We outline three methods insurance agents can use to find the right amount of coverage.
Mentioned in this episode:
4 Steps to Every Final Expense Sale
How to Make the Most of Life Insurance Awareness Month
When to Recommend Life Insurance Based on Its Tax Advantages
More episodes you'll like:
5 Life Insurance Myths Your Clients May Believe
Do your clients truly understand life insurance? We debunk five myths your clients may use as objections to purchasing a policy. Learn how to handle these objections and make the sale!
Identifying Ideal Clients for Universal Life Insurance Products
Is universal life insurance a good fit for your clients? In this episode, we cover the ideal clients for each type of universal life product – guaranteed (GUL), index (IUL), and traditional (UL).
The Increasing Value of Combining Life and LTC Insurance
Do linked-benefit Life/LTC insurance products have a place in your portfolio? Find out why the market is ripe for these types of plans right now!
The latest from Ritter's Blog:
2021 Medicare Advantage & Part D Certification Info
Medicare agent certification and product training details for 2021 are being released! Luckily, you can find many carriers' AHIP, Medicare Advantage certification, Part D certification, and product training details in one place.
How to Check for Your First Looks
The moment when carrier First Looks become available is a very exciting time for insurance agents! It can put a spring in your step and help you get in the mood for the upcoming Annual Enrollment Period!
2021 Maximum Broker Commissions for Medicare Advantage & Medicare Part D
Ritter has everything you need to know about 2021 maximum broker commissions for Medicare Advantage and Medicare Part D initial enrollments. Note: Insurance providers are NOT REQUIRED to pay the maximum commission rate.
Subscribe & Follow:
Connect on social: