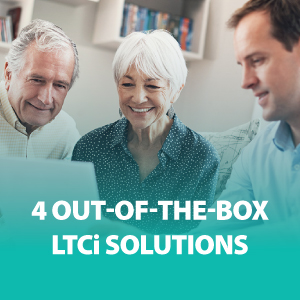 Traditional isn't the only way to go when it comes to Long-Term Care insurance for your clients. We've got four non-traditional LTC solutions that just might do the trick. 
Mentioned in this Episode:
Fixed Annuities vs. Indexed Annuities: What's the Difference?
Identifying Ideal Clients for Universal Life Products
Know the difference: Chronic illness vs. LTCi riders
Lack of Funds for LTC is Americans' Greatest Fear About Aging
Short-Term Care Insurance: A Top LTCi Alternative for Clients
STCi Solutions for LTCi Prospects
The Increasing Value of Combining Life & LTC
More episodes you'll like:
An Alternative Approach to Long-Term Care Planning | ASG145
Think traditional Long-Term Care insurance is the only way to cover your client's future LTC expenses? Show your clients a different way with linked-benefit Life/LTC policies.
The Real Cost of Long-Term Care | ASG144
Do your clients know all the costs associated with retirement? Learn more about the true cost of Long-Term Care so you can pass that knowledge – and peace of mind! – on to your clients.
Are You Offering Multiple LTCi Options? | ASG142
Ready to offer more Long-Term Care insurance products in your portfolio? Learn the benefits and distinctions of each LTCi option – and how these products can boost your sales.
The Increasing Value of Combining Life & LTC | ASG138
Do linked-benefit Life/LTC insurance products have a place in your portfolio? Find out why the market is ripe for these types of plans right now!
The latest from Agent Survival Guide:
5 Major Things to Expect in the Medicare Advantage Market for 2020
Spoiler alert: With the way the market's looking for 2020, we feel confident saying now's a FANTASTIC time to be selling Medicare Advantage (MA) plans. Here's why. The Kaiser Family Foundation (KFF),...(read more)
Why You Need to Make Time for Medicare Training (& Where to Find Great Resources!)
It's the Annual Enrollment Period, the busiest time of the year if you're a Medicare agent! More sales translate into more money. And we all know time is money, so the more...(read more)
Value-Based Care for Medicare Enrollees Is the Future
All of us want our doctors to actually care about our health, not to just fill their patient quota for the day. Well, the government wants that too, for their own reasons... (read more)
Subscribe & Follow:
Connect on social: