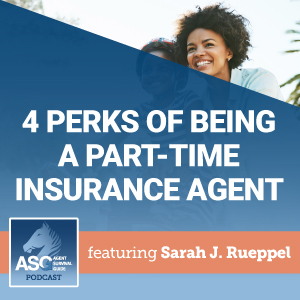 Thinking about joining the ranks of insurance agents selling Medicare for a living? Not really sure if becoming a senior health insurance agent is the right career path for you? We get it! What if you could give it a practice run before giving up your full-time job? In this episode of the ASG Podcast, we discuss the benefits of starting out as a part-time insurance agent.
Mentioned in this episode:
Do You Have What it Takes to Be a Great Insurance Agent?
Five Tips for the Part-Time Agent
How Professional Organizations Make You a Better Agent
Independent Agent - definition
Selling Medicare Products – Why It's Definitely Worth Your While
What an FMO Can Do for Your Business
Why Now is the Time to Start Selling Insurance
More episodes you'll like:
4 Perks of Partnering with an FMO
What exactly is a field marketing organization? Why partner with an FMO? If you've been debating joining an FMO, you don't want to miss this episode!
4 Reasons Why Ritter Should Be Your FMO Insurance Agency
Looking for an FMO? Not sure what a field marketing organization like Ritter Insurance Marketing can do for your insurance business? Learn everything you need to know in this can't-miss episode of the ASG Podcast!
Ready to Join an FMO? 10 Things to Consider
Thinking about partnering with a field marketing organization? Wondering how you can tell the good from the bad? Our top 10 list outlines what you need to know before you partner with an FMO.
The latest from Ritter's Blog:
Tips on How to Stay Productive When Working From Home
When your schedule is thrown for a loop due to something like COVID-19, or any other event that changes how you work, it can be hard to find a new normal.
A Review of the Top Medicare Quote Engines for Insurance Agents
An agent selling Medicare products is only as good as the Medicare quoting tool they're using. We're looking at agents' top options for fast and reliable Medicare quoting software and what makes them so special.
Ritter Can Help You Stay in Touch with Your Clients
In any type of business, client retention is just as important as taking on new clients. In the insurance world, once a sale is closed, your duty as an agent isn't over.
Subscribe & Follow:
Connect on social: