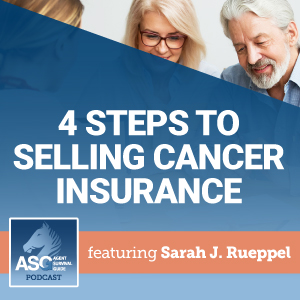 Use these steps to sell your next (or first!) cancer insurance policy. Find out how to start the conversation, overcome common objections, and more.
Mentioned in this episode:
1 in 4 cancer survivors is going broke fighting to stay alive
4 Tips for Making a Better Insurance Sales Pitch
Cost of Cancer Care Reaches Nearly $150B Nationally
Every 'Second' Counts: Why Sell Cancer, Heart Attack and Stroke Insurance?
Financial toxicity: 1 in 3 cancer patients have to turn to friends or family to pay for care
Lifetime Risk of Developing or Dying From Cancer
Study: Almost half of new cancer patients lose their entire life savings
Why Client Retention Should be Your Top Priority
Why Critical Illness Insurance Can Breathe New Life into Your Business
Why is Cancer Insurance Worth Selling?
More episodes you'll like:
4 Ancillary Cross-Sales to Show Clients You Care
Ready to get started cross-selling? What products can you cross-sell with Medicare? Build up your insurance portfolio with our list of must-have ancillary products!
Every 'Second' Counts: Why Sell Cancer, Heart Attack and Stroke Insurance?
Build a portfolio that shows clients you care. Cancer, heart attack, and stroke insurance plans provide coverage and peace of mind when your clients need it most.
Learn How to Cross-Sell Ancillary Insurance with Medicare Products
Ready to boost your Medicare business? Increase your sales commissions and improve client retention at the same time, all without additional certifications. Learn about the power of cross-selling and how you can get started today!
Secure a Bigger, Better Business with Ancillary Products
Want to branch out from Medicare Advantage or Medicare Supplement sales? Learn how ancillary products can help you expand your reach and add more value to your portfolio.
Why is Cancer Insurance Worth Selling?
How would an unexpected diagnosis affect your clients? Give them peace of mind with coverage that can help ease the stress of cancer treatment.
Why You Need to Make Time for Medicare Training (& Where to Find Great Resources!)
Gaining knowledge through training is more than just a necessity. It's a strategy that helps you stand out from your competition and grow your insurance business.
The latest from Ritter's Blog:
Major Changes Coming to the MA & PDP Market for 2021
Thinking of selling Medicare Advantage and prescription drug plans for 2021? Agents and beneficiaries can expect to see six major improvements in several categories associated with the 2021 MA & PDP market: enrollment, affordability, accessibility, value, and plan choice. Keep reading to get all the details!
Rules for Hosting a Compliant Medicare Educational Event
While events are often a great way to generate leads, holding Medicare educational events during the COVID pandemic is a legal and ethical grey area. What is allowed at seminars for the 2021 AEP?
Rules for Hosting a Compliant Medicare Sales Event
Are you considering holding a marketing event to get the attention of more Medicare clients? You'll need to follow CMS' rules for hosting sales events.
Subscribe & Follow:
Connect on social: