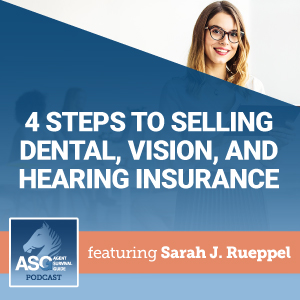 Not sure how to show your clients the benefits of dental, vision, and hearing insurance products? In this episode of the ASG Podcast, we walk you through the process of selling DVH insurance plans from start to finish. Don't forget to visit the show notes for a full list of Ritter's free DVH sales resources.
Mentioned in this episode:
Secure a Bigger, Better Business with Ancillary Products
The Advisor Approach: Cross-Selling by Fact-Finding
Getting Started Selling Medicare Supplements
Defining the True Value of $0 Premium for Medicare Advantage Plans
Keeping Teeth Strong & Healthy at Any Age
How Your Oral Health Affects Your Overall Wellness
Your Eyes and Overall Health – It's All Connected
Senior Speak: Talking to Medicare Clients Age 65 & Older
4 Tips for Making a Better Insurance Sales Pitch
Building Client Loyalty: More than Just a Plan
How Medicareful Helps You Sell Ancillary Products
Articles for Your Clients:
Clouded Sight: Living with Cataracts
Does Medicare Cover Dental Care?
Does Medicare Cover Hearing Aids?
Keeping Teeth Strong & Healthy at Any Age
Is Medicare the Only Health Insurance I Need?
More episodes you'll like:
Getting Started Selling Dental, Vision, and Hearing Insurance
Want to increase your insurance sales and your commissions? Learn how adding DVH insurance to your sales portfolio can open up those opportunities! Consider this your primer on dental, vision, and hearing insurance products.
Sense Success with Dental, Vision, and Hearing Plans
Keep your clients (and your portfolio!) healthy with dental, vision, and hearing insurance. Discover how these plans can build your client base and set your business apart!
The Friday Five for May 8, 2020: AHIP 2021 Training Update; Humana Waives Copays and Cost-Sharing, Talks Telehealth; Headphones to Help WFH; Krasinski Keeps Some Good News Coming; and How to Celebrate Mother's Day During a Pandemic.
The latest from Ritter's Blog:
Helping Your Clients Find Their Medicare Beneficiary Identifier
During some Medicare sales appointments, you may meet with a client who wants to enroll in a plan but doesn't have their Medicare Beneficiary Identifier (MBI). Fortunately, there are ways you can help them get their MBI or look it up.
How You Can Sell Insurance in Your State During COVID-19
We've gathered information regarding your state's stance on in-person sales during the COVID-19 pandemic, as well as information about applying for unemployment benefits as a self-employed worker.
Why It's Time to Take a More Relaxed Approach to Insurance Sales
How many times have you walked into a store just wanting to look at something, but ended up walking out with nothing because the stakes felt too high? Maybe you were turned off because you couldn't "just look" without a salesperson trying to give you their spiel? They "pushed" you right out the door, didn't they? Here's how (and why!) to make sure you're not that salesperson.
5 Steps to Selling Medicare Supplements Successfully
Whether you're already selling Medicare Supplements or just starting to look into offering this type of product, there are five simple steps you can take to find more success in your sales. Do you know what they are?
How to Successfully Set SMART Goals
Setting goals is a great way to keep your business on track with a clear path ahead. We recommend setting goals at the beginning of each plan year to help you flourish in the year to come.
Subscribe & Follow:
Connect on social: