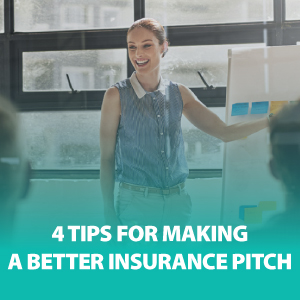 Want to know how to make a better insurance sales pitch? Ready to learn how to improve your selling skills? In this episode, we outline the four game-changing sales presentation tips for insurance agents.
Mentioned in this episode:
5 Wrong Assumptions Sales Makes About Potential Customers
10 positive body language techniques to help you succeed
Active Listening: The Art of Empathetic Conversation
Consumer Behavior: How People Make Buying Decisions
Good assumptions, bad assumptions: and how to tell the difference
OxiClean Archives Billy Mays It's Amazing Classic Commercial
Sales Questions That Help Sell
Survey of Consumer Health Insurance Literacy Reveals Less Than Half of Americans Understand How Their Plan Works
Survey: Majority of us don't understand basic health insurance terms
The Hidden Reasons Why Customers Buy Your Products
The Important of Pace and The Power of Pause
Your Step-by-Step Guide to Getting Started in Insurance Sales
More episodes you'll like:
4 Reasons Why Ritter Should Be Your FMO Insurance Agency | ASG156
Looking for an FMO? Not sure what a field marketing organization like Ritter Insurance Marketing can do for your insurance business? Learn everything you need to know in this can't-miss episode of the ASG Podcast!
Are Your Medicare Marketing Materials Compliant? | ASG169
Want to make sure your Medicare sales and marketing materials are compliant this AEP? We've got the answers to frequently asked compliance question. We'll help you stay on good terms with CMS!
Do's and Don'ts of Medicare Compliance | ASG164
Need a recap on Medicare compliance before AEP? We break down the CMS Medicare Communications and Marketing Guidelines for insurance agents, including new compliance rules for 2020. We'll go over what's allowed — and what's not — in this can't-miss episode of the ASG Podcast.
How to Use the New Medicare Plan Finder | ASG168
It's official! The new Medicare Plan Finder is now live on Medicare.gov. We've got all the info on the changes and how to use it, (including where to find your old prescription drug lists!) as well as answers to agents' frequently asked questions.
Staying Compliant Without Compromising Salesmanship | ASG167
If you're feeling overwhelmed by Medicare compliance, then this episode is one you simply must listen to! We've got three easy ways to stay compliant without having to sacrifice time that could be spent selling. Check out our show notes for a special bonus section with links to our compliance resources.
The latest from Agent Survival Guide:
How to Host a Successful Medicare Educational Event
Looking to host a Medicare educational event? Check out our FREE guide! If you've been hosting educational events for years, we think you'll still enjoy our tips and tricks to make your event even more successful. Agents with all levels of expertise can benefit from... (read more)
Staying Compliant Without Compromising Salesmanship
Staying compliant with every rule surrounding Medicare can seem daunting. If you're busy making sure you're staying compliant, how will you ever have time to meet with clients and sell? Aligning yourself... (read more)
Tips on Dealing with a Difficult Client
In an ideal world, all your clients would be an absolute pleasure to work with and selling them plans would be a piece of cake. However, we know this isn't always the... (read more)
Subscribe & Follow:
Connect on social: