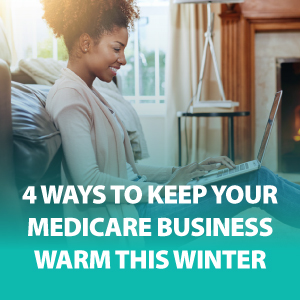 How do you keep your Medicare business thriving after Annual Enrollment ends? What can you sell outside of AEP? We talk products for your portfolio, selling strategies, and compliant follow-up, and more! 
Mentioned in this Episode:
3 Ways to Calculate Your Clients' Life Insurance Needs
4 Reasons Why Ritter Should Be Your FMO Insurance Agency
Building Client Loyalty: More Than Just a Plan
Genesys Releases Customer Satisfaction Surveys
Getting Started Selling Medicare Supplements
Rules for Hosting a Compliant Medicare Educational Event
SNPs: The Secret to Surviving Lock-in
Secure a Bigger, Better Business with Ancillary Products
Stay Busy Outside of AEP With Special Enrollment Periods
The Part D SEP Triggers That Can Help You Post-AEP
Try Cross-Selling Annuities to Fuel Sales
More episodes you'll like:
January 17, 2020 | The Friday Five
Oscar & Cigna teaming up, screening kids for toxic stress in CA, smart contact lenses, sweethearts are BACK, and our newest FREE eBook is now available for download!
Starting Your Own Insurance Agency featuring Craig Ritter and Dave Dietz
What does it really take to create your own insurance agency? We sat down with Craig Ritter, President and Owner of Ritter Insurance Marketing, and Dave Dietz, Senior Vice President of Marketing at Ritter, to pick their brains on the subject. These are just some of the questions they answer: When do I create an LLC? What qualities do I look for in downline agents? Should I follow the 80/20 rule? Listen now for the answers to these questions and more!
The Beginner's Guide to D-SNPs
What is a Dual Eligible Special Needs Plan? How do you sell it? Where do you find dual-eligible prospects? Our D-SNP primer answers these questions and more!
The Part D SEP Triggers That Can Help You Post-AEP
A prospect wants to switch their Medicare Part D coverage, but AEP is over. Can you still help? YES! Listen to learn the different scenarios that can help qualify your client for coverage through a Special Election Period.
Things to Think About Post-AEP
AEP is over. 🥳 So, now what? 🤔 If you're not sure how to proceed after the rush Annual Enrollment Period, fear not! We unpack your next steps in this episode of the Agent Survival Guide Podcast.
The latest from Agent Survival Guide:
Pros and Cons of Having an Office Space Outside of Your Home
Having a designated space to work and be productive is essential for independent insurance agents. There are going to be advantages and disadvantages with deciding whether or not to acquire an office...(read more)
What is E&O Insurance and Do You Need It?
Mistakes happen, even to the best of us. Fortunately, errors and omissions (E&O) insurance can help you mitigate the risks and costs that come with your profession. The insurance for those who...(read more)
Dual Eligible Special Needs Plans are a great product to add to your portfolio, especially since 12 million Americans (20 percent of the Medicare population) have dual-eligible status. While we think selling...(read more)
Subscribe & Follow:
Connect on social: