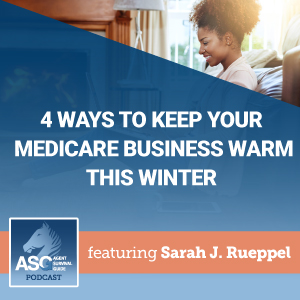 Keep your Medicare business alive, even in the dead of winter! Wondering what can you sell outside of AEP? We talk products for your portfolio, selling strategies, and compliant follow-up, and more! 
Mentioned in this episode:
3 Ways to Calculate Your Client's Life Insurance Needs
4 Reasons Why Ritter Should Be Your FMO Insurance Agency
Building Client Loyalty: More Than Just a Plan
Getting Started Selling Medicare Supplements
Rules for Hosting a Compliant Medicare Educational Event
SNPs: The Secret to Surviving Lock-in
Secure a Bigger, Better business with Ancillary Products
The Hard Truth About Acquisition Costs (and How Your Customers Can Save You)
The Part D SEP Triggers That Can Help You Post-AEP
Try Cross-Selling Annuities to Fuel Sales
More episodes you'll like:
December 17, 2021 | The Friday Five
Rules for Hosting a Compliant Medicare Sales Event
3 Tips to Help Your Clients Avoid Health Insurance Scams
Articles to Share with Your Clients:
Does Vitamin C Boost Your Immune System?
CMS Announces 2022 Medicare Advantage and Part D Costs
Ritter Insurance Marketing eBooks & Guides:
Agent Survival Kits: Beginners or Experts
A Quick Guide to Cross-Selling Ancillary Insurance with Medicare Products
The Complete Guide to Client Loyalty and Retention
The latest from Ritter's Blog:
2022 Medicare Part A and Part B premiums and Deductibles
How Insurance Agents Can Learn About Their Social Media Audience
Offer Clients Cancer Insurance Featuring Coverage for Genomic Sequencing
Subscribe & Follow:
Connect on social: