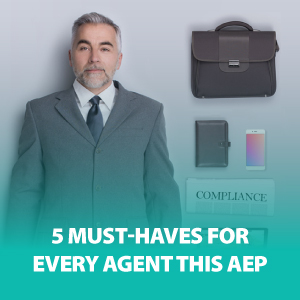 Are these must-haves part of your strategy for this Annual Enrollment Period? They should be! Listen as we highlight five essentials to simplify your Medicare sales this AEP. 
Mentioned in this episode:
How to help a loved one sign up for Medicare
What Are Agents Responsible for Under HIPAA?
More episodes you'll like:
Are Your Medicare Marketing Materials Compliant? | ASG169
Want to make sure your Medicare sales and marketing materials are compliant this AEP? We've got the answers to frequently asked compliance question. We'll help you stay on good terms with CMS!
How to Use the New Medicare Plan Finder | ASG168
It's official! The new Medicare Plan Finder is now live on Medicare.gov. We've got all the info on the changes and how to use it, (including where to find your old prescription drug lists!) as well as answers to agents' frequently asked questions.
Staying Compliant Without Compromising Salesmanship | ASG167
If you're feeling overwhelmed by Medicare compliance, then this episode is one you simply must listen to! We've got three easy ways to stay compliant without having to sacrifice time that could be spent selling. Check out our show notes for a special bonus section with links to our compliance resources.
What an FMO Can Do For Your Business | ASG105
Why work with an FMO? What is a Field Marketing Organization? If you've been on the fence about joining an FMO, this can't-miss episode is for you!
2020 Medicare Communications and Marketing Guidelines UPDATE | ASG News
Make sure you're compliant with the latest CMS Medicare Communications and Marketing Guidelines. We've got an update on the 2020 MCMG that you don't want to miss.
The latest from Agent Survival Guide:
How to Host a Successful Medicare Educational Event
Looking to host a Medicare educational event? Check out our FREE guide! If you've been hosting educational events for years, we think you'll still enjoy our tips and tricks to make your event even more successful. Agents with all levels of expertise can benefit from... (read more)
Staying Compliant Without Compromising Salesmanship
Staying compliant with every rule surrounding Medicare can seem daunting. If you're busy making sure you're staying compliant, how will you ever have time to meet with clients and sell? Aligning yourself... (read more)
Tips on Dealing with a Difficult Client
In an ideal world, all your clients would be an absolute pleasure to work with and selling them plans would be a piece of cake. However, we know this isn't always the... (read more)
Subscribe & Follow:
Connect on social: