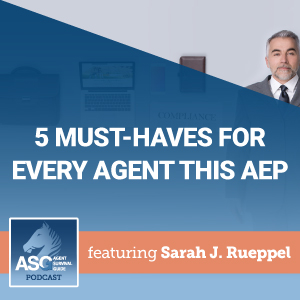 Are these must-haves part of your strategy for this Annual Enrollment Period? They should be! Listen as we highlight five essentials to simplify your Medicare sales this AEP. 
Mentioned in this episode:
Contact the Team at Ritter Insurance Marketing
How to Get Started in Medicare Sales
How to help a loved one sign up for Medicare
What Are Agents Responsible for Under HIPAA?
More episodes you'll like:
2022 Medicare Advantage and Part D Certification Info
Are Your Medicare Marketing Materials Compliant?
How to Market Yourself Effectively
Staying Compliant Without Compromising Salesmanship
What an FMO Can Do For Your Business
Articles to Share with Your Clients:
All About Medical Underwriting and Medicare
Cooking for Beginners: Even More Techniques and Tips
Ritter Insurance Marketing eBooks & Guides:
Agent Survival Kits: Beginners or Experts
The Complete Guide on How to Sell Medicare Advantage Plans
The Complete Guide on How to Sell Prescription Drug Plans
The latest from Ritter's Blog:
How Does a Hospital Indemnity Plan Work with Medicare? A Case Study
Medicare & Medicaid Compared: How Both Programs Benefit Insurance Agents
Subscribe & Follow:
Connect on social: