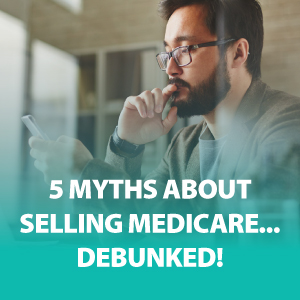 If you're on the fence about selling Medicare, this episode is for you! Don't let these myths hold you back from selling Medicare! The senior health insurance market is booming – and there's plenty of room for more agents… like you!
Mentioned in this episode:
2019 Medicare Communications and Marketing Guidelines
2020 Maximum Broker Commissions for MA & Medicare Part D
How Medicare Helps Your Clients Stay Healthy
Medicare & Other Health Benefits: Your Guide to Who Pays First
Medicare eligibility for those under 65
Ritter Insurance Marketing Official Website 
What is AHIP and Why Do You Need It?
More episodes you'll like:
4 Perks of Being a Part-Time Insurance Agent
Thinking about joining the ranks of agents selling Medicare for a living? Not really sure if becoming a senior health insurance agent is the right career path for you? We get it! What if you could give it a practice run before giving up your full-time job? In this episode of the ASG Podcast, we discuss the benefits of starting out as a part-time insurance agent.
4 Reasons Why Ritter Should Be Your FMO Insurance Agency
Looking for an FMO? Not sure what a field marketing organization like Ritter Insurance Marketing can do for your insurance business? Learn everything you need to know in this can't-miss episode of the ASG Podcast!
FAQs About Working with Ritter Insurance Marketing
Have questions about partnering with Ritter Insurance Marketing? Not sure what a field marketing organization is, or how joining one can help your insurance business? Curious about lead programs, CE credits, and other opportunities FMOs like Ritter have to offer? We talk with our sales team to answer common questions about working with FMOs and more!
Ready to Join an FMO? 10 Things to Consider
Thinking about partnering with a field marketing organization? Wondering how you can tell the good from the bad? Our top 10 list outlines what you need to know before you partner with an FMO.
The latest from Agent Survival Guide:
How to Transition from AEP to D-SNPs
The lock-in period is approaching, but just because it's not the "busy season," doesn't mean you can't stay busy! You can keep sales and commission coming in by shifting your focus from...(read more)
Should You Hire an Assistant for Your Insurance Business?
To say that the Annual Enrollment Period is an extremely busy time of year for insurance agents is a massive understatement. At Ritter Insurance Marketing, we know just how hectic AEP can... (read more)
The Value of Staying in Touch with Clients
You've met with a client, quoted plans, and completed and submitted the application. Your work is done right? Well, no. If you want to be successful in this business, you're going to need… (read more)
Subscribe & Follow:
Connect on social: