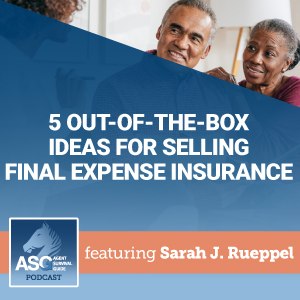 Pitching final expense insurance may seem challenging, but it doesn't have to be! We've got five concepts to work into your presentation strategy before your next sales appointment!    
Mentioned in this Episode:
4 Life Insurance Awareness Month Marketing Ideas
4 Steps to Every Final Expense Sale
5 Life Insurance Myths Your Clients May Believe
Brace yourself: This is how much America's 1% has saved
Final Expense Insurance Sales Opportunities You May Be Missing
How Much Does the Average Funeral Cost?
How to Close More Final Expense Sales
The Advisor Approach: Cross-Selling by Fact-Finding
Life Insurance for Each of Life's Stages
More episodes you'll like:
4 Steps to Every Final Expense Sale
Master your final expense sales pitch with these steps. We discuss how to help you bring up the subject of final expense with confidence and convert more prospects into clients.
Every 'Second' Counts: Why Sell Cancer, Heart Attack, and Stroke Insurance?
Build a portfolio that shows clients you care. Cancer, heart attack, and stroke insurance plans provide coverage and peace of mind when your clients need it most.
The Complete Guide on How to Sell Final Expense Insurance
Entering the final expense market just got easier thanks to our free eBook, The Complete Guide on How to Sell Final Expense Insurance. Learn the basics of this product, how to market it, how to prequalify and enroll clients, sales niches, tips, tools, and more!
The latest from Ritter's Blog:
Why Go About Your Business in an Ethical, Compliant Fashion?
We've already told you the many ways you can remain compliant as an insurance agent. In this article, we want to focus on the "why." Why should you go about your business in an ethical, compliant...(read more)
The Agent Survival Guide Has a New Home
Big things are happening with the Agent Survival Guide in 2020! Now, all our Agent Survival Guide content is available on RitterIM.com. Here's everything you need to know about the... (read more)
Should You Become a Certified Insurance Counselor?
Are you considering becoming a Certified Insurance Counselor? For some agents, this certification may be something brand new! We're here to break down what this certification is, how you can obtain... (read more)
Subscribe & Follow:
Connect on social: