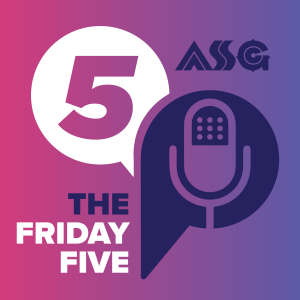 Friday May 12, 2023
5 Things About Working with Ritter Insurance Marketing
We shine the spotlight on Ritter Insurance Marketing - the field marketing organization that powers the Agent Survival Guide Podcast! Curious about partnering with Ritter? Need help with leads and marketing? Get those details and more in this special episode!
Want more information on field marketing organizations? Download our eBook: How Insurance FMOs Work
Have questions about working with Ritter Insurance Marketing? Email us at ASGPodcast@RitterIM.com
Follow Us on Social!
Ritter on Facebook, https://www.facebook.com/RitterIM Instagram, https://www.instagram.com/ritter.insurance.marketing/ LinkedIn, https://www.linkedin.com/company/ritter-insurance-marketing TikTok, https://www.tiktok.com/@ritterim Twitter, https://twitter.com/RitterIM and Youtube, https://www.youtube.com/user/RitterInsurance
Sarah on LinkedIn, https://www.linkedin.com/in/sjrueppel/ and Instagram, https://www.instagram.com/thesarahjrueppel/
Tina on LinkedIn, https://www.linkedin.com/in/tina-lamoreux-6384b7199/
Resources:
4 Reasons Why Ritter Should Be Your FMO Insurance Agency: https://agentsurvivalguide.podbean.com/e/4-reasons-why-ritter-should-be-your-fmo-insurance-agency/
College Majors That Work Well In the Insurance Industry: https://agentsurvivalguide.podbean.com/e/college-majors-that-work-well-in-the-insurance-industry/
How Insurance FMOs Work eBook: https://www.ritterim.com/how-insurance-fmos-work/
FMO vs. IMO vs. NMO vs. MGA vs. GA – What's the Difference?: https://agentsurvivalguide.podbean.com/e/fmo-vs-imo-vs-nmo-vs-mga-vs-ga-what-s-the-difference-2023/
Ready to Join an FMO? 10 Things to Consider: https://agentsurvivalguide.podbean.com/e/ready-to-join-an-fmo-10-things-to-consider/
Ritter's Tools & Resources for Insurance Agents featuring Harry Rittner: https://agentsurvivalguide.podbean.com/e/ritter-s-tools-resources-for-insurance-agents-featuring-harry-rittner/
The Benefits of Joining a Top Insurance FMO: https://agentsurvivalguide.podbean.com/e/the-benefits-of-joining-a-top-insurance-fmo/
Training Opportunities for Insurance Agents at Ritter Insurance Marketing: https://agentsurvivalguide.podbean.com/e/training-opportunities-for-insurance-agents-at-ritter/
What Are Insurance Hierarchies & How Do They Work? https://agentsurvivalguide.podbean.com/e/what-are-insurance-hierarchies-how-do-they-work/