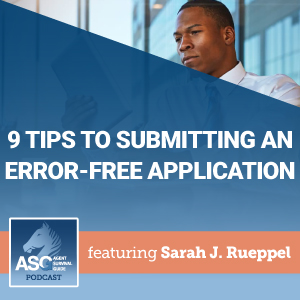 Avoid commissions and coverage delays on your Medicare applications! The secret? Writing clean applications that won't get flagged during the submissions process – and we've done the research for you! Use the 9 helpful tips we outline in this episode to start writing cleaner applications!
Mentioned in this episode:
Do's and Don'ts of Medicare Compliance
Learn more about the Medicareful Program
What to Know About SOAs in Senior Market Sales
More episodes you'll like:
April 9, 2021 | The Friday Five
The Friday Five for April 9, 2021: AHIP Revamping Training Site, President Biden Moves Up Vaccine Deadline, Medicare COVID-19 Data Snapshot Update, Managing Mental Health & Wellness, and New Spotify Features
How to Follow Up With Medicare Clients Compliantly
Think your job as an agent is complete after the sale? Not so fast. We whole-heartedly believe that the fortune is found in the follow-up! If you're not sure how to follow up with your clients, listening to this episode is a great place to start.
How do insurance agents get Medicare leads? Find out in this episode of our ASG Podcast. We outline the best practices to help you stay compliant.
Articles to Share with Your Clients:
3 Fun Ways to Boost Your Cooking Creativity
Want to take your home cooking to the next level, but don't know how? Here are three challenges that will boost your kitchen creativity and give you hands-on lessons that are fun and inspiring.
Does Medicare Cover Podiatry Services?
Podiatry is a specialty in the medical field that many of us don't often think about. But, what if you have bunions or a foot injury? Does Medicare cover podiatry and foot care?
Our lives have become even more connected to the digital world, and for good reason. But, there are benefits to unplugging sometimes.
Ritter Insurance Marketing eBooks & Guides:
Agent Survival Kits: Beginners or Experts
A Quick Guide to Cross-Selling Ancillary Insurance with Medicare Products
Developing an Agency – Your Guide to Getting Started
How to Host a Successful Medicare Educational Event
Modern Medicare Marketing for Today's Agents
Social Media Marketing for Insurance Agents
The Complete Guide on How to Sell Final Expense Insurance
The Complete Guide on How to Sell Medicare Advantage Plans
The Complete Guide on How to Sell Medicare Supplements
The Complete Guide to Client Loyalty and Retention
Your Step-By-Step Guide to Getting Started in Insurance Sales
The latest from Ritter's Blog:
Discover the Details of Fraternal Benefit Society Life Insurance
Within the world of insurance there are fraternal benefit societies. If you're not familiar with these groups, there are untapped benefits for you and your clients that go way beyond insurance coverage and commissions!
Ritter's Quest for Cash Is Here for 2021!
For 2021, Ritter's hosting a Quest for Cash Medicare Supplement production incentive! We're happy to say that you can expect some awesome prizes throughout the year!
Why Insurance Agents Fail (& How Not To!)
There are many reasons why insurance agents may "fail" or not be as successful as they originally set out to be. Let's discuss some of those obstacles, and how to overcome them!
Subscribe & Follow:
Connect on social: