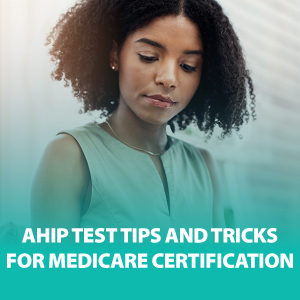 Learn the rules for taking the AHIP test, information on discounts and reimbursement, how to prepare yourself, test-taking tips, legit tech hacks, and more! Before you begin your first attempt at AHIP certification, be sure to listen to this ASG Podcast episode!
Mentioned in this episode:
5 Ways to Connect a Laptop to a Monitor
Brain Foods: Snack & Drinks That Make You Smarter
How to Survive AEP: Wellness Tips for Insurance Agents
Positive thinking: Stop negative self-talk to reduce stress
The Benefits of Stress Management
The Importance of Healthy Hydration
What is AHIP and Why Do You Need It?
More episodes you'll like:
What is AHIP and Why Do You Need It? | ASG001
Learn more about AHIP requirements, how to get certified, and ways to find discounts on AHIP courses.
You have questions about AHIP, we've got the answers! Get the facts on this exam, from how much it costs and where to take it, to study tips and discounts.
Insurance Agents & CMS Compliance | Social Media 101
Stay compliant with the CMS Medicare Communications and Marketing Guidelines — even while on social media. We outline the best practices for insurance agents to follow while using social media.
Social Media Privacy Tips for Insurance Agents | Social Media 101
Online privacy is a big deal. You want to use social media to market your insurance business. How do you protect yourself and your clients? We've got some best practices and a link to a very informative eBook that's free to download. Listen to find out more!
The latest from Agent Survival Guide:
Do's and Don'ts of Medicare Compliance
Life as an agent before Medicare's Annual Enrollment Period is a flurry of contracting and certifying. But there's another C that's even more important: Compliance. And it's not just something to consider during... (read more)
How to Prepare for AEP Like a Pro
With Annual Enrollment Period quickly approaching, it's a good idea to make sure you're fully prepared and ready to sell. By following these steps, you'll be ready by October 15. If you... (read more)
What's New in the 2020 Medicare Communications and Marketing Guidelines?
Recently, the Centers for Medicare & Medicaid Services released a memo outlining the changes to the Medicare Communications and Marketing Guidelines (MCMG) for the 2020 plan year. Updates may affect... (read more)
Subscribe & Follow:
Connect on social: