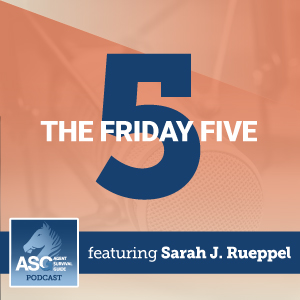 The Friday Five for April 2, 2021:
COVID-19 Vaccine Passports
Should I Laminate my Vaccine Card?
New Study on Medicare Advantage Beneficiary Savings
Ever Given's Trouble in the Suez Canal
Facebook Bringing Back Chronological Feeds?
Mentioned in this episode:
BMA: Medicare Advantage beneficiaries save more money on out-of-pocket costs than Medicare fee-for-service
Clearing the Suez Canal Took Days. Figuring Out the Costs May Take Years.
Don't laminate your COVID vaccination card before doing these 5 things
Ever Given refloated and freed! How did they get the ship out of the Suez Canal?
Everything you need to know about vaccine passports
Facebook makes it easier for users to see News Feed stories in chronological order
February 12, 2021 | The Friday Five
Study: Medicare Advantage Saves Beneficiaries $1,640 Year, Delivering 40% Lower Cost-Burden than Traditional Medicare
Suez Canal Struggles to Clear Logjam as Stream of Arrivals Continues
'Vaccine passports' are on the way, but developing them won't be easy
More episodes you'll like:
March 26, 2021 | The Friday Five
The Friday Five for March 26, 2021: Xavier Becerra confirmed as HHS secretary, CMS Payment Model Updates, USPS Delivering for America 10-Year Plan, Anthem to acquire myNEXUS, and more!
How to Follow Up with Medicare Clients Compliantly
Think your job as an agent is complete after the sale? Not so fast. We whole-heartedly believe that the fortune is found in the follow-up! If you're not sure how to follow up with your clients, listening to this episode is a great place to start.
How do insurance agents get Medicare leads? Find out in this episode of our ASG Podcast. We outline the best practices to help you stay compliant.
Articles to Share with Your Clients:
Cooking for Beginners: More Frequently Asked Questions (& Their Answers!)
We're here to answer more of your cooking questions, from the best way to thaw food to why food sticks to your nonstick pan!
Does Medicare Cover Podiatry Services?
Podiatry is a specialty in the medical field that many of us don't often think about. But, what if you have bunions or a foot injury? Does Medicare cover podiatry and foot care?
Simple Exercises for a Rainy Day
You want to get fit for the summer, but it's ugly outside and you're stuck inside. Don't fret! We've got an effective HIIT workout using simple exercises for a rainy day.
The latest from Ritter's Blog:

Ritter's Quest for Cash Is Here for 2021!
For 2021, Ritter's hosting a Quest for Cash Medicare Supplement production incentive! We're happy to say that you can expect some awesome prizes throughout the year!
Why Insurance Agents Fail (& How Not To)
There are many reasons why insurance agents may "fail" or not be as successful as they originally set out to be. Let's discuss some of those obstacles, and how to overcome them!
Medicare Advantage Trial Rights Explained for Agents
If you have a client who enrolled in a Medicare Advantage plan but wants to go (back) to Original Medicare, they may qualify for a Medicare Advantage trial right! This would allow them to update their coverage outside of the Annual Enrollment Period.
Subscribe & Follow:
Connect on social: