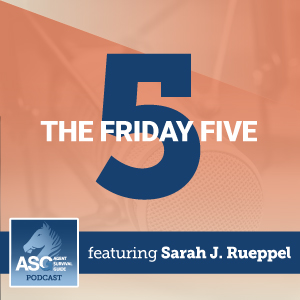 The Friday Five for April 23, 2021:
National Take Chance Day
AHIP Training Update
Kaiser Family Foundation Medicare Prescription Drug Study
Embracing Lillördag for Mental Wellness
Apple Podcasts New Features
Mentioned in this episode:
5 Tips for Creating Your Own Personal Brand
AHIP Marketing MA + FWA Training Site
Apple Podcasts launches in-app subscriptions
How to Recruit Insurance Agents to Your Downline
Relatively Few Drugs Account for a Large Share of Medicare Prescription Drug Spending
Should You Hire an Assistant for Your Insurance Business?
Sinus-Clearing Foods That'll Blast The Snot Right Out Of You
Starting Your Own Insurance Agency featuring Craig Ritter and Dave Dietz
Steal the Swedish Secret of 'Lillördag' for a Happier Workweek
What is 'hygge'? Get to know Denmark's secret to happiness – and how Americans can cultivate it
More episodes you'll like:
April 16, 2021 | The Friday Five
The Friday Five for April 16, 2021: FWA and COVID-19, CMS proposals and Biden's health agenda, potential vaccine for all coronaviruses, identifying your "natural market", and what exactly is an NFT?
9 Tips to Submitting an Error-Free Application
Avoid commissions and coverage delays on your Medicare applications! The secret? Writing clean applications that won't get flagged during the submissions process – and we've done the research for you! Use the 9 helpful tips we outline in this episode to start writing cleaner applications!
How to Follow Up with Medicare Clients Compliantly
Think your job as an agent is complete after the sale? Not so fast. We whole-heartedly believe that the fortune is found in the follow-up! If you're not sure how to follow up with your clients, listening to this episode is a great place to start.
How do insurance agents get Medicare leads? Find out in this episode of our ASG Podcast. We outline the best practices to help you stay compliant.
Why It's Time to Take a More Relaxed Approach to Insurance Sales
Is the hard sell making it harder for you to sell insurance? High-pressure tactics don't work like they used to. Find out what you can do differently and still make the sale.
Articles to Share with Your Clients:
Does Medicare Cover MRIs & Other Scans?
Getting a diagnostic scan can be important to uncovering a condition or illness. Fortunately, Medicare can help make X-rays, MRIs, and other scans more affordable. Here's what your Medicare coverage of scans may look like and what costs you may have.
Finding Relief from Seasonal Allergies
Seasonal allergies are a problem that millions of Americans deal with each year. If you're someone who suffers from them, you've got options for seeking relief!
Garlic is one of those ingredients that is omnipresent in most cuisines of the world. Why is it so popular, and how can you go about cooking with garlic?
The latest from Ritter's Blog:
Important 2022 AHIP Certification Training Updates You Should Know
The 2022 AHIP Medicare training season starts on June 21, 2021. Before you begin to complete this obligation, there are changes to the Marketing Medicare Advantage and Fraud, Waste and Abuse training that you need to be aware of.
The Basics of Selling Insurance from Home
Your client base is in a different state, your country's fighting a pandemic, or you just like working from home. Whatever the reason, you want to start running your insurance business remotely.
Discover the Details of Fraternal Benefit Society
Within the world of insurance there are fraternal benefit societies. If you're not familiar with these groups, there are untapped benefits for you and your clients that go way beyond insurance coverage and commissions!
Subscribe & Follow:
Connect on social: