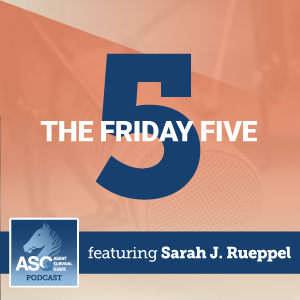 The Friday Five for April 24, 2020:
Phase 3.5 of COVID-19 Federal Relief
A Surprise End to Balance Billing?
Managing Coronavirus Anxiety
FAQ on COVID-19 Germ Resilience Outside The Body
How to Hang Up? Video Call Etiquette
Mentioned in this episode:
America's First Youth Poet Laureate Amanda Gorman Offers Inspiration During Pandemic
Did HHS just put an end to surprise billing?
How to End a Video Call Politely
Is the Virus on My Clothes? My Shoes? My Hair? My Newspaper?
Senate passes $484B 'Phase 3.5' coronavirus stimulus package by voice vote amid tension in chamber
What to Do If Your Anxiety About Coronavirus Feels Overwhelming
More episodes you'll like:
April 17, 2020 | The Friday Five
The Friday Five for April 17, 2020: Some (more) Good News from John Krasinski; Google and Apple team up for COVID-19 tracking app; make your Teams and Zoom calls more fun (or at least less messy); Stimulus check scams – what to watch for; and state rules for selling insurance during the coronavirus pandemic.
Guiding Your Agency Through COVID-19
It's an unprecedented time. COVID-19 has shut down businesses small and large, and if you're wondering how to run your business during a pandemic, you are not alone. How can your insurance agency continue to help clients and stay productive amidst the coronavirus pandemic? We've got some insight that might help.
How to Add Technology to Your Insurance Business
Need to bring technology into your business? Not sure where to begin? Start by listening to this episode! We'll help you revamp your insurance sales process.
Internet Forums & Insurance Agents
Discover the power of forums. We unpack it all, how to get started, what you should post, etiquette rules, and more!
Medicare MSA 101 featuring Jim Handlan of Lasso Healthcare
Have questions about selling Medicare Medical Savings Accounts (MSA) Plans? This bonus episode of our ASG Podcast has your answers! We sat down with Jim Handlan, President of Lasso Healthcare, to pick his brain on all things Medicare MSA-related.
More People Working Past Age 65: What it Means for Agents Selling Medicare Plans
What does Medicare look like for your clients working past age 65? This is one of the most common questions we get from insurance agents. And we've got answers! Learn how to help clients enroll in Medicare when they plan to continue working. We'll even cover how to help a client that's already on Medicare who wants to "unretire" and rejoin the workforce! You don't want to miss this episode of our ASG Podcast!
Using e-Apps to Work From Home
COVID-19 has changed the way we currently do business. Learn how technology can help mitigate the space between how you used to sell insurance and the "new normal" we've found ourselves in.
The latest from Ritter's Blog:
Why It's Time to Take a More Relaxed Approach to Insurance Sales
Let's be honest… it doesn't take a salesperson to know what other salespeople are trying to do. Your clients aren't salespeople, and they know that, under your official title as an insurance agent, that's what you are. You want them to spend money, and you want them to spend it with you because that earns you money. Naturally, you're going to meet some resistance. That doesn't mean you're set up to fail, though. If you take a more relaxed approach to insurance sales, we think you'll see more success. Learn why.
How You Can Sell Insurance in Your State During COVID-19
We've gathered information regarding your state's stance on in-person sales during the COVID-19 pandemic, as well as information about applying for unemployment benefits as a self-employed worker.
2020 State of the Senior Market: In Review
Craig Ritter, president of Ritter Insurance Marketing, once again gave his annual State of the Senior Market address, but this year, with a little twist. Rather than one long webinar, his address was broken into a four-part video series. We took the highlights from each episode and put them all in one place - this article!
Subscribe & Follow:
Connect on social: