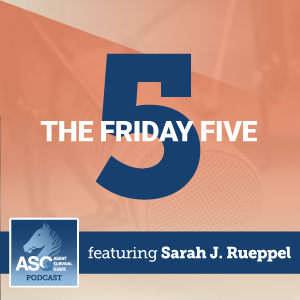 The Friday Five for April 3, 2020:
Some Good News
CARES Act Stimulus Checks
Mental Health Minute
Brothers Cuomo and Mom's Sauce
Girl Scouts Cookie Care
Mentioned in this episode:
Andrew Cuomo to Chris: You're the meatball of the family
Girl Scouts Cookie Care – Buy or Donate Cookies 🍪
Girl Scout Cookies Offering Home Delivery
How to make your own yeast for baking
Social Security recipients who don't usually file tax returns will automatically get $1,200 payments, Treasury says in reversal
Unsifted – The Bread Lab at Washington State University
When will you get your stimulus cash, and how?
More episodes you'll like:
March 27, 2020 | The Friday Five
The Friday Five for March 27, 2020: The coronavirus stimulus package; how to help during the COVID-19 pandemic; Instagram debuts new feature; Zoom lets you video chat for free; new to streaming for April 2020.
How to Add Technology to Your Insurance Business
Ready to bring technology into your business? Not sure where to start? Listening to this episode is a must if you've been thinking about adding technology to your insurance sales process.
Should Insurance Agents Have Their Own Website?
To have a website, or to not have a website? Does my insurance business really need its own website? What would I use it for other than contact information? How do I get started? We answer all these questions and more in this must-listen episode of our Agent Survival Guide Podcast!
The latest from Ritter's Blog:
Guiding Your Agency Through COVID-19
The COVID-19 virus has effectively changed the way the United States operates for the foreseeable future. With business closures and travel restrictions, the potential to harm small businesses like insurance agencies is obvious and potentially devastating. But, with the right combination of planning and flexibility — and a dash of help from your friendly FMO — it doesn't have to derail your agency's productivity.
How to Successfully Set SMART Goals
Setting goals is great way to keep your business on track with a clear path ahead. We recommend setting goals at the beginning of each plan year to help you flourish in the year to come.
Ritter and Carrier Operations During the COVID-19 Pandemic
The COVID-19 virus has effectively changed the way the United States operates for the foreseeable future. A compilation of information from the carriers Ritter supports regarding their capacity to continue operations during the COVID-19 pandemic.
What Agents Can't Say During Medicare Sales Appointments
The Centers for Medicare & Medicaid Services have some strict rules on what agents can and cannot say during Medicare sales appointments, but pulling them out of the dense Medicare Communications and Marketing Guidelines (MCMG) can be tough and time-consuming. Here are some examples to help simplify things!
More People Working Past Age 65: What It Means for Agents Selling Medicare Plans
For agents selling Medicare plans, the stereotypical prospect has been someone with graying hair, approaching the age of 65 or already past it, and retired. There have always been those who don't fit this stereotype; however, lately, you've probably noticed more of them.
Subscribe & Follow:
Connect on social: