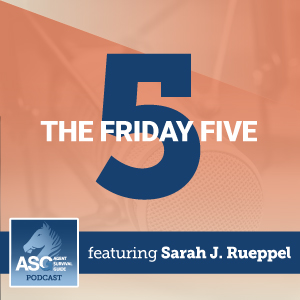 The Friday Five for April 9, 2021:
AHIP Revamping Training Site
President Biden Moves Up Vaccine Deadline
Medicare COVID-19 Data Snapshot Update
Managing Mental Health & Wellness
New Spotify Features
Mentioned in this episode:
AHIP Marketing MA + FWA Training Site
Biden Says All Adults Will Be Vaccine Eligible By April 19
CMS Updates Medicare COVID-19 Data Snapshot
Do We Even Know How To Socialize Anymore?
'Hey Spotify' in-app virtual assistant now rolling out on iPhone
How To Do A Mental Health Day Right
Important 2022 AHIP Certification Training Updates You Should Know
NPR's COVID-19 Vaccine Tracker
Preliminary Medicare COVID-19 Data Snapshot
Spotify leaks another look at the Car Thing, this time from within its own app
More episodes you'll like:
April 2, 2021 | The Friday Five
The Friday Five for April 2, 2021: COVID-19 Vaccine Passports, Should I Laminate my Vaccine Card, New Study on Medicare Advantage Beneficiary Savings, Ever Given's Trouble in the Suez Canal, and Facebook Bringing Back Chronological Feeds
How to Follow Up with Medicare Clients Compliantly
Think your job as an agent is complete after the sale? Not so fast. We whole-heartedly believe that the fortune is found in the follow-up! If you're not sure how to follow up with your clients, listening to this episode is a great place to start.
How do insurance agents get Medicare leads? Find out in this episode of our ASG Podcast. We outline the best practices to help you stay compliant.
Why Client Retention Should Be Your Top Priority
Discover how to keep existing clients coming back for more. We talk strategy and give you practical steps you can easily implement in your own insurance business.
Why College Grads Are Choosing to Become Insurance Agents
Graduating college soon? Looking for a career change? Becoming an independent insurance agent can give you the flexibility and financial stability you're looking for!
Articles to Share with Your Clients:
Simple Exercises for a Rainy Day
You want to get fit for the summer, but it's ugly outside and you're stuck inside. Don't fret! We've got an effective HIIT workout using simple exercises for a rainy day.
Our lives have become even more connected to the digital world, and for good reason. But, there are benefits to unplugging sometimes.
What is the Medicare Part B Premium Giveback?
Medicare is affordable health care coverage for many, but some Medicare Advantage plans have what's called a Medicare Part B Premium Giveback. What does that mean for you?
The latest from Ritter's Blog:
Discover the Details of Fraternal Benefit Society Life Insurance
Within the world of insurance there are fraternal benefit societies. If you're not familiar with these groups, there are untapped benefits for you and your clients that go way beyond insurance coverage and commissions!
Ritter's Quest for Cash Is Here for 2021!
For 2021, Ritter's hosting a Quest for Cash Medicare Supplement production incentive! We're happy to say that you can expect some awesome prizes throughout the year!
Why Insurance Agents Fail (& How Not To!)
There are many reasons why insurance agents may "fail" or not be as successful as they originally set out to be. Let's discuss some of those obstacles, and how to overcome them!
Subscribe & Follow:
Connect on social: