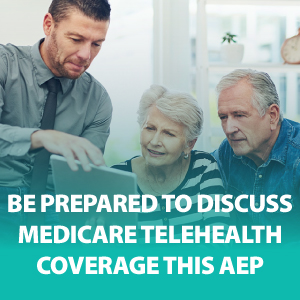 Are you prepared to talk about Medicare telehealth benefits this AEP? Whether you call it telemedicine, telecare, or a virtual visit, these benefits are growing in popularity. Learn how your clients can utilize them, which beneficiaries are most likely to access them, and more!
Mentioned in this episode:
CMS finalizes policies to bring innovative telehealth benefit to Medicare Advantage
Does Medicare Cover Telehealth Services?
Ritter Insurance Marketing Agent Registration (FREE)
Telehealth: Connecting Consumers to Care Everywhere
More episodes you'll like:
5 Reasons Clients Switch Medicare Plans During AEP | ASG 178
The Annual Enrollment Period isn't just for new Medicare enrollees. It's also the time to review your current clients' Medicare coverage to see if switching plans could be beneficial. Start by learning the five reasons why enrollees switch their Medicare plans during AEP.
Defining the True Value of $0 Premium for Medicare Advantage Plans | ASG179
There's more to $0 Premium Medicare Advantage plans than just their zero-dollar premium. Learn about all the costs associated with these popular plans so you can help your senior clients know what to expect when they access their coverage.
Tips on Working with a Difficult Client | ASG180
Ever have a difficult client? Check out our tips on how to work through three frustrating (but common!) situations insurance agents face in the field. We've got some advice on when to walk away, too.
The latest from Agent Survival Guide:
Halfway Through AEP: Reflect & Renew Your Medicare Sales Strategies
November 10 marks the halfway point for the 2020 Annual Enrollment Period! If you're selling Medicare products, now's the time to reflect on your success during the first few weeks and recharge... (read more)
5 Major Things to Expect in the Medicare Advantage Market for 2020
Spoiler alert: With the way the market's looking for 2020, we feel confident saying now's a FANTASTIC time to be selling Medicare Advantage (MA) plans. Here's why. The Kaiser Family Foundation (KFF),... (read more)
Why You Need to Make Time for Medicare Training (& Where to Find Great Resources!)
It's the Annual Enrollment Period, the busiest time of the year if you're a Medicare agent! More sales translate into more money. And we all know time is money, so the more... (read more)
Subscribe & Follow:
Connect on social: