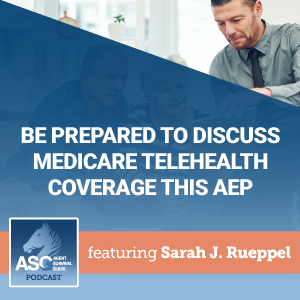 Are you prepared to talk about Medicare telehealth benefits this AEP? Whether you call it telemedicine, telecare, or a virtual visit, these benefits are growing in popularity. Learn how your clients can utilize them, which beneficiaries are most likely to access them, and more!
Mentioned in this episode:
78% of patients are satisfied with virtual health care, according to telehealth survey
CMS booklet on Telehealth Services
Contact the Team at Ritter Insurance Marketing
Does Medicare Cover Telehealth Services?
Medicare Telemedicine Health Care Provider Fact Sheet
Ritter Insurance Marketing Carrier & Product Map
Telehealth: Connecting Consumers to Care Everywhere
Telehealth statistics and telemedicine trends 2021
Trump Administration Finalizes Permanent Expansion of Medicare Telehealth Services and Improved Payment for Time Doctors Spend with Patients
More episodes you'll like:
October 22, 2021 | The Friday Five
Effective Sales Strategies for Your Second Medicare AEP During the COVID-19 Pandemic
Here are the Medicare Out-of-Pocket Expenses That Cost Beneficiaries the Most
Rules for Hosting a Compliant Medicare Educational Event
Rules for Hosting a Compliant Medicare Sales Event
Articles to Share with Your Clients:
Does Vitamin C Boost Your Immune System?
Getting Creative with Comfort Food: Healthy Gnocchi
Ritter Insurance Marketing eBooks & Guides:
How to Host a Successful Medicare Educational Event
Social Media Marketing for Insurance Agents
The Complete Guide to Client Loyalty and Retention
The latest from Ritter's Blog:
Rules for Hosting a Compliant Medicare Educational Event
Rules for Hosting a Compliant Medicare Sales Event
The Ritter Platform Launches Provider Lookup, FastTrack, & Lead Sharing for the 2022 AEP
Subscribe & Follow:
Connect on social: