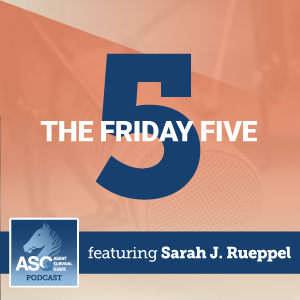 The Friday Five for December 18, 2020:
The COVID-19 Vaccine Arrives
COVID-19 Vaccine Scams and Misinformation
Google's Year in Search Trends 2020
Netflix to Unveil Audio-Only Mode?
Top 10 New Business Books in 2020
Mentioned in this episode:
Answers to Your Questions about the New Covid Vaccines in the U.S.
Google's Year in Search Trends 2020 – Global Results
Google's Year in Search Trends 2020 – United States Results
Fact check: Bell's palsy among COVID-19 trial participants likely unrelated to Pfizer vaccine
First came news of a vaccine. Now come the scams.
Moderna nears its first-ever FDA authorization, for its COVID-19 vaccine
Netflix May Be Introducing an Audio-Only Mode for Listening to Shows with the Screen Off
Pfizer vs. Moderna COVID-19 vaccine: What's the Difference?
US vaccinations ramp up as 2nd COVID-19 shot nears
Your Complete Guide to the Ten Best New Business Books of 2020
More episodes you'll like:
December 11, 2020 | The Friday Five
The Friday Five for December 11, 2020: President-Elect Joe Biden's pick for HHS Secretary, Potential health policy under Biden Administration, NPR creates COVID-19 hospital lookup with HHS data, Webex announces new features, and Managing Holiday stress
November 24, 2020 | The Tuesday Ten
It's back! Our official list of 2020's top 10 holiday toys! We did the research so you don't have to! Sarah has a thing for research, spreadsheets, and really delights in the finding the perfect gift. Let her help you survive holiday toy shopping!
Ritter Can Help You Stay in Touch with Your Clients
Client retention starts with outreach, but if you're not sure how to do that, we've got you covered. Listen to get four ways to reach out and the details on some FREE templates you'll want to get your hands on!
The Beginner's Guide to C-SNPs
Ready to learn more about C-SNPs? In this episode, we go over all the details of Chronic Condition Special Needs Plans, like what they are, who qualifies, and why you should be selling them!
The Benefits of Selling D-SNP's
Keep your Medicare sales flowing outside of AEP! Get the details on adding D-SNPs (dual-eligible special needs plans) to your portfolio.
Articles to Share with Your Clients:
Does Medicare Cover COVID Testing?
Does Medicare cover COVID testing? It's an important question to be answered, since testing can give you peace of mind and help slow the spread of the pandemic.
Health for the Holidays: Christmas Cookies
What would the holidays be without Christmas cookies? While you're celebrating the season, we're looking at ways you can enjoy the cookies without busting your New Year's resolution early!
Safe Ways to Celebrate Christmas During the COVID Pandemic
Looking for ways to celebrate Christmas during the COVID pandemic? It's possible, but we have to be smart and still follow the guidelines. Here's how.
The latest from Ritter's Blog:
Does Your Medicare Sales Approach Satisfy Different Budgets?
We all know the saying, "money doesn't grow on trees." Many people have limited incomes, but you can help them with budgeting for a Medicare plan to afford the health care they may need.
In the insurance industry, leads are what sustain your business. Of course, you need the contracts, training, and other skills to be a successful insurance agent, but without leads, you'll just be spinning your wheels.
What is AHIP Certification and How Do I Get It?
You have your leads in hand and your contracts signed, so you're ready to sell, right? Well… almost. Did you complete your AHIP certification yet?
Subscribe & Follow:
Connect on social: