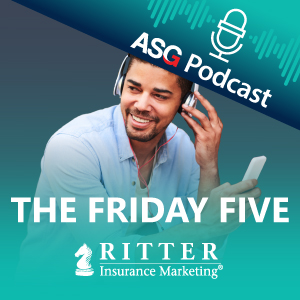 The Friday Five for December 6, 2019:
NY Governor Andrew Cuomo Vetoes CE Bill Benefiting Agents
Centene plans to divest IlliniCare, CVS Health to buy it
New CEO for Alphabet, Google's parent company
A Senate panel approves FDA commissioner nominee Dr. Stephen Hahn
Ritter launches a Facebook Group for agents!
Mentioned in this episode:
N.Y. Governor Discusses Association Continuing Ed Credit Bill Veto
CVS To Buy Centene's Divested Illinois Medicare Advantage Plan
Larry Page steps down; Sundar Pichai to lead both Alphabet, Google as CEO
Senate panel approves Hahn as FDA head
Senate panel advances Trump's nominee for FDA commissioner
More episodes you'll like:
5 Major Things to Expect in the Medicare Advantage Market for 2020
What's new in the Medicare Advantage Market for 2020? The ASG Podcast has the scoop on what you can expect in the coming year, including new MA carriers!
Build Your Brand with Community Involvement
Connect with your local community and grow your insurance business at the same time! Use our helpful tips to get started.
How Selling Insurance Helps Give Back
In the insurance industry, there are plenty of opportunities to give back. Discover how agents make a difference in their communities every day, and how you can, too!
November 26, 2019 | The Tuesday Ten (Top 10 Holiday Toys for 2019)
Let us help you survive the holidays! We've done all the research (we 💖 research), and we've compiled our official list of the top ten holiday toys for 2019. You don't want to miss this one!
Not sure which photo editing app is right for you, or your insurance business? In this episode, we've got our top five photo editing apps, plus five simple tips to taking better photos.
The latest from Agent Survival Guide:
Do you have clients looking for guarantees in long-term care insurance (LTCi)? If so, for many agents, the "knee-jerk" reaction is often to go straight to a hybrid or linked-benefit solution. If... (read more)
Should You Hire an Assistant for Your Insurance Business?
To say that the Annual Enrollment Period is an extremely busy time of year for insurance agents is a massive understatement. At Ritter Insurance Marketing, we know just how hectic AEP can... (read more)
The Benefits of Selling D-SNPs
About 12 million Americans (20 percent of the Medicare population) have dual eligible status. If that's not reason enough for you to enter this market, there are several benefits of selling Dual... (read more)
Subscribe & Follow:
Connect on social: