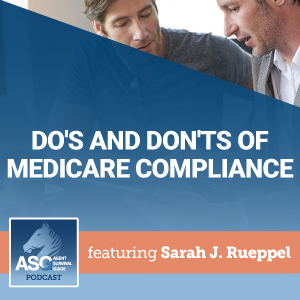 Need a recap on Medicare compliance this AEP? We break down the CMS Medicare Communications and Marketing Guidelines for insurance agents, including new compliance rules for 2021. We'll go over what's allowed — and what's not — in this updated episode of the ASG Podcast.
Mentioned in this episode:
CMS 2019 Medicare Communications and Marketing Guidelines
Defining the True Value of $0 Premium for Medicare Advantage Plans
Exciting Changes to the 48-Hour Scope of Appointment Rule
Get Your FREE Medicareful Site!
Marketing & Incentives from Ritter Insurance Marketing
Rules for Hosting a Compliant Medicare Educational Event
Rules for Hosting a Compliant Medicare Sales Event
What's New in the 2019 Medicare Communications and Marketing Guidelines?
What's New in the 2020 Medicare Communications and Marketing Guidelines?
What to Know About SOAs in Senior Market Sales
More episodes you'll like:
October 16, 2020 | The Friday Five
The Friday Five for October 16, 2020: Medicare Advantage carrier recommendations for 2021, SSA announces COLA for 2021, webinars for insurance agents selling Medicare, ways to quickly relax, and a recap from Apple's Hi, Speed event.
Are Your Medicare Marketing Materials Compliant?
Are you following the rules for marketing Medicare plans? We're sharing the answers to frequently asked compliance questions to help you ensure you stay on good terms with CMS.
Insurance Agents & CMS Compliance | Social Media 101
Stay compliant with the CMS Medicare Communications and Marketing Guidelines — even while on social media. We outline the best practices for insurance agents to follow while using social media.
Staying Compliant Without Compromising Salesmanship
If you're feeling overwhelmed by Medicare compliance, then this episode is one you simply must listen to! We've got three easy ways to stay compliant without having to sacrifice time that could be spent selling. Check out our show notes for a special bonus section with links to our compliance resources.
Why Go About Your Business in an Ethical Compliant Fashion
Maintaining CMS compliance while selling Medicare is crucial to the success of your insurance business. But why? In this episode, we're answering that question a few different ways as we look at the "why" behind running a compliant insurance agency.
The latest from Ritter's Blog:
Major Changes Coming to the MA & PDP Market for 2021
Thinking of selling Medicare Advantage and prescription drug plans for 2021? This is the year to give it a try! Here's why.
Get Your Medicare Advantage Sales Contracts Here – Recommendations for 2021
We're now entering the AEP season, and there's still an opportunity to contract with competitive plans in your area through Ritter. Agents can view a map of our available carriers and products in your state. 
How Much Can Insurance Agents Make Selling Medicare?
If you're considering selling Medicare, you likely want to know how much you can earn from it. We're covering the basics, including how working with an FMO can affect your commissions, to give you a good idea!
Subscribe & Follow:
Connect on social: