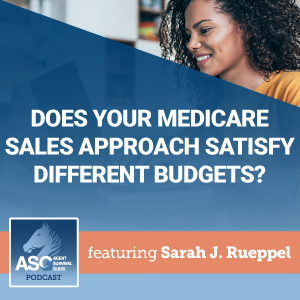 Your portfolio likely includes different types of insurance for different coverage needs. But what about different financial needs? How do you factor cost into the equation compliantly?
Mentioned in this episode:
Carrier Map for Ritter Insurance Marketing
Clients' health-care spending gets closer look from advisors as costs squeeze budgets
How to compare Medigap policies
Medicareful User Guide on Ritter Docs
Online Contracting with Ritter Insurance Marketing
Ritter Insurance Marketing Products – Ancillary
Ritter Insurance Marketing Products – Medicare
Ritter's Medicare Quote Engine (MQE)
More episodes you'll like:
How to Build Rapport Selling Insurance Online and Over the Phone
>Learn how to better connect with your sales prospects - even if those interactions are now happening virtually. We have 6 tips you can add to your insurance sales process today!
How to Prevent Insurance Agent Negligence
Compliance is an important part of selling insurance for agents to remember. But what about preventing negligence? In this episode, we define insurance agent negligence and offer some tips on how to prevent it from happening to you.
How to Take on an Upset Client in the Insurance Industry
What do you when your client is upset because of how another insurance agent treated them? Get tips on how to turn that past, negative experience into a positive, and a loyal client.
How to Use Storytelling in Your Sales Pitch
Could your sales pitch use some work? Learn how to transform a lackluster insurance presentation with storytelling!
Ritter Can Help You Stay in Touch with Your Clients
Client retention starts with outreach, but if you're not sure how to do that, we've got you covered. Listen to get four ways to reach out and the details on some FREE templates you'll want to get your hands on!
Articles to Share with Your Clients:
Understanding Your Medicare Advantage MOOP Limit
A major benefit of most Medicare Advantage plans is their maximum out-of-pocket limit. Here's what you need to know about the Medicare MOOP limit for your plan.
Understanding Your Medicare Explanation of Benefits
It can be difficult to keep track of how you use your Medicare plan and what it covers. That's where your Medicare Explanation of Benefits comes in handy.
Ways Seniors Can Lower Heating Costs in the Winter
Looking for ways you can lower your heating bill this winter? You're in luck because you can without compromising comfort!
The latest from Ritter's Blog:
What to Do If Your Clients Can No Longer Afford Their Permanent Life Insurance Premiums
Are your clients struggling to pay their permanent life insurance premiums? They have options other than letting their policies lapse! Here's how you can help them salvage their benefits.
Medicareful 2020 Year-in Review: Here's What We Accomplished
Selling Medicare plans? You've probably heard of Medicareful. We're reviewing what this free Medicare quoting software helped agents accomplish in 2020 and how it set itself apart from other online Medicare sales tools!
In the insurance industry, leads are what sustain your business. Of course, you need the contracts, training, and other skills to be a successful insurance agent, but without leads, you'll just be spinning your wheels.
Subscribe & Follow:
Connect on social: