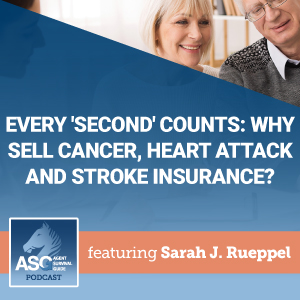 Build a portfolio that shows clients you care. Cancer, heart attack, and stroke insurance plans provide coverage and peace of mind when your clients need it most.
Mentioned in this episode:
4 Steps to Selling Cancer Insurance
Cancer Stat Facts: Cancer of Any Site
Cardiovascular Disease: A Costly Burden for America | Projections Through 2035
Critical Illness Plans: Your Cure for Unhealthy Sales
Getting Started Selling Medicare Supplements
Heart Disease and Stroke Statistics – 2021 Update
How heart attacks became less deadly
Long-Term Survival and Causes of Death After Stroke
Oncologists Worry About Rising Costs of Cancer Treatment
Why Is Cancer Insurance Worth Selling?
More episodes you'll like:
How to Cross-Sell Insurance: The Advisor Approach
Ready to improve your cross-selling technique? Not sure where to start? We recommend using the advisor approach, a simple method any agent can use for insurance cross-sales.
Secure a Bigger, Better Business with Ancillary Products
Ready to branch out from Medicare Advantage or Medicare Supplement Insurance sales? Learn how ancillary products can help you expand your reach and add more value to your portfolio.
Tips for Cross-Selling Medicare Products
Maximize your business and your profits by cross-selling. We've put together a list of tips to help you get started!
Articles to Share with Your Clients:
Does Medicare Cover Cancer Treatment?
Receiving treatment for a cancer diagnosis can be very expensive without the proper insurance coverage. With that in mind, let's talk about Medicare coverage for cancer treatment.
How Spicy Food is Your Diet's Secret Weapon
Spicy food isn't for everyone. The hottest hot sauces can reduce people to tears. However, we're learning that spicy foods have some interesting health benefits.
Start Your Green Thumb with a Windowsill Garden
If you've ever wanted a garden, but don't have the space or time, you're in luck! Growing a windowsill garden can make it both easier and more convenient to have a garden.
The latest from Ritter's Blog:
Why Insurance Agents Fail (& How Not To!)
There are many reasons why insurance agents may "fail" or not be as successful as they originally set out to be. Let's discuss some of those obstacles, and how to overcome them!
Ritter is More Than Medicare & Our New Team Brand Shows Why
When selling Medicare Advantage and Medicare Supplement policies, it's important to remember that More than Medicare products are the missing pieces of the puzzle.
Medicare Advantage Trial Rights Explained for Agents
If you have a client who enrolled in a Medicare Advantage plan but wants to go (back) to Original Medicare, they may qualify for a Medicare Advantage trial right! This would allow them to update their coverage outside of the Annual Enrollment Period.
Subscribe & Follow:
Connect on social: