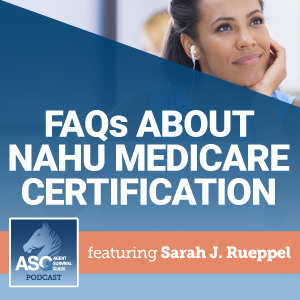 Got questions about NAHU's Medicare Advantage and Part D certification training? We've got answers! In this episode, we talk about the cost of NAHU certification, CE credits, training module topics, and more – you don't want to miss it!!!  
Mentioned in this episode:
Email NAHU with questions at professionaldevelopment@nahu.org
Information on NAHU Corporate Partnerships
Medicare Advantage Certification Training Guidebook
NAHU's Online Learning Institute
State Rules for Insurance Continuing Education
More episodes you'll like:
July 10, 2020 | The Friday Five
The Friday Five for July 10, 2020: CMS Proposed Rule on End-Stage Renal Disease (ESRD) Prospective Payment System (PPS); AHIP's State of Medigap 2020; Capital Rx teaming up with Walmart; Walmart debuts Walmart Insurance Services, LLC; Walgreens and VillageMD announce partnership
NEW: NAHU 2021 Medicare Certification Training
NAHU just launched a brand-new Medicare certification training for agents selling Medicare Advantage and Medicare Part D for the 2021 Annual Enrollment Period. Find out the details on this alternative to AHIP Medicare certification, including pros and cons, NAHU vs. AHIP, and more!
2021 Medicare Advantage and Part D Certification Info
Looking for 2021 Medicare Advantage and Medicare Part D agent certification and product training details? Find out how to get carrier AHIP, Medicare Advantage certification, Part D certification, and product training details in one convenient place!
The latest from Ritter's Blog:
How You Can Sell Insurance in Your State During COVID-19
We've gathered information regarding your state's stance on in-person sales during the COVID-19 pandemic, as well as information about applying for unemployment benefits as a self-employed worker.
Identifying Ideal Clients for LTCi
Who typically purchases long-term care insurance (LTCi) policies? We've got your answer. To help you identify ideal clients for LTC insurance policies, we've created a profile containing the characteristics of a conventional LTCi buyer.
Whether it's your first time or your fifth, completing the annual AHIP certification is important for licensed insurance agents selling Medicare plans. We answer some frequently asked questions about AHIP certification.
Subscribe & Follow:
Connect on social: