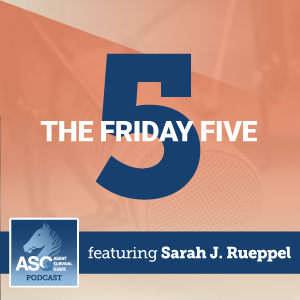 The Friday Five for February 21, 2020:
Coronavirus & Trade Implications
Medicare Advantage Enrollment Stats
The CBO's Budget and Economic Outlook for 2020 to 2030
IRS Tax Law Changes for 2020
Apple Watch Detects Heart Condition
Mentioned in this episode:
Apple Watch alerts 13-year old about a serious, undetected heart condition
Burger King thinks moldy Whoppers will get you to buy more burgers
Business Wars: McDonald's vs Burger King – Fastest Burger in the West | 1
Changes in tax law you should know about this year
From toys to Teslas, China's coronavirus disrupts flow of global business
McDonald's Shamrock Shake returns with a 50th-anniversary twist
Medicare Advantage enrollment swells
Medicare and Medicaid Programs: Contract Year 2021 and 2022 Policy and Technical Changes to the Medicare Advantage Program, Medicare Prescriptions Drug Benefit Program, Medicaid Program, Medicare Cost Plan Program, and Programs of All-Inclusive Care for the Elderly
The Budget and Economic Outlook: 2020 to 2030
Why Apple's coronavirus caution is nothing like last year's China warning: Morning Brief
More episodes you'll like:
Ready to Join an FMO? 10 Things to Consider
Thinking about partnering with a field marketing organization? Wondering how you can tell the good from the bad? Our top 10 list outlines what you need to know before you partner with an FMO.
What Are Insurance Agents Responsible for Under HIPAA?
Stay HIPAA compliant with the Agent Survival Guide Podcast! Find out what you're responsible for under HIPAA regulations.
What Is E&O Insurance and Do You Need It?
You've worked hard to create and grow your insurance business — but how do you protect your investment? Even insurance agents need protection. In this episode, we make the case for errors and omissions (E&O) insurance.
The latest from Ritter's Blog:
The Top 5 Products to Sell During Medicare's Lock-In Period
Which products should a Medicare sales agent sell outside of the Annual Enrollment Period to keep earning commissions? We've got the top five additional plan types that should be a part of an agent's portfolio...(read more)
Why Go About Your Business in an Ethical, Compliant Fashion?
We've already told you the many ways you can remain compliant as an insurance agent. In this article, we want to focus on the "why." Why should you go about your business in an ethical, compliant... (read more)
The Agent Survival Guide Has a New Home
Big things are happening with the Agent Survival Guide in 2020! Now, all our Agent Survival Guide content is available on RitterIM.com. Here's everything you need to know about the... (read more)
Subscribe & Follow:
Connect on social: